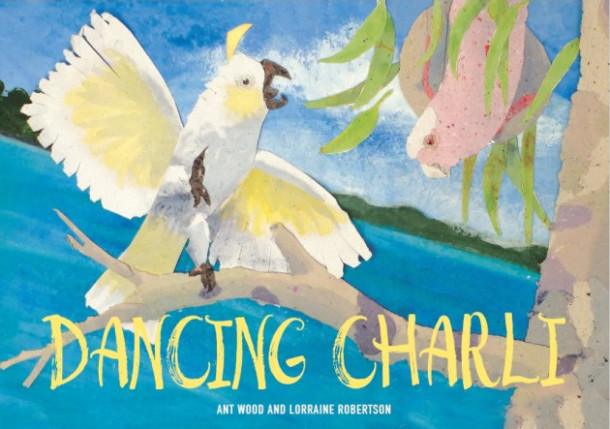 Ant Wood (text),  Lorraine Robertson (illus.),  Dancing Charli,  Envirobook, 1 Dec 2016, 32pp.,  $16.99 (pbk),  ISBN: 978-0858812505
"What fun!" said Charli.

"Now it's easy to see.

How everyone's different,

And this makes me happy!"
Dancing Charli is a little like Possum Magic (Mem Fox & Julie Vivas) for bird lovers. Charli, a sulphur-crested cockatoo, takes Gordon the Galah on a trip around Australia. They visit many of our major cities, including Canberra, Melbourne, Perth and Broome. As they travel, Charli and Gordon meet and dance with a colourful assortment of native Aussie birds, including a rosella, lorikeet, gang-gang cockatoos and orange-bellied parrots.
Hand-made paper and watercolour illustrations do a lovely job of capturing the beauty and personality of our birds, and ensure that young readers' attention will be captured too.
The verse is not flawless in scan and rhyme, and there are a couple of inconsistencies in the story. For example, the two main characters visit all major cities and Tasmania (which is, of course, a state), and they meet another bird at every stopover except for Melbourne.
Overall, however, this book works as an attractive and entertaining celebration of diversity, an introduction to Australian birds and places, and a fun yarn.
Reviewed by Julie Murphy