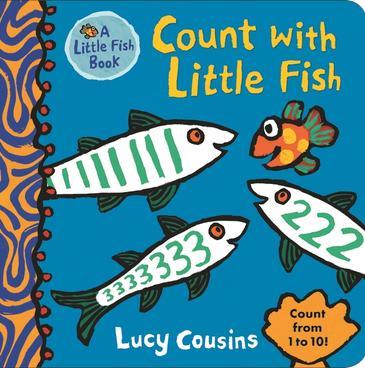 Lucy Cousins, Count with Little Fish, Walker Books Australia, April 2018, 22pp.,, $11.99 (Board Book), ISBN: 9781406374193
From the author of Maisy and created as a companion to her earlier title Where is Little Fish?, Lucy Cousins' Count with Little Fish, is a bright, eye-catching board book suitable for pre-school children. Its bold colours, glossy pages and embossing make this counting book very appealing.
There is a good deal to like about this book and children will delight in counting the unusual fish for each number up to ten and hearing the accompanying rhyme. The rhyming text is simple and interesting, beautifully complementing the playful, bright illustrations while the use of alliteration and a font that looks like handwriting add to the aural and visual enjoyment.  Each double page spread follows a predictable pattern with the large number on the left-hand side matching the quantity of fish on the right-hand page. An interactive double page at the end invites the reader to find and count all the new fish which adds another dimension to the counting experience.
Count with Little Fish is an attractive book with a great balance of learning and fun. Pre-school children will want to go back to it again and again.
Reviewed by Grace Nolan