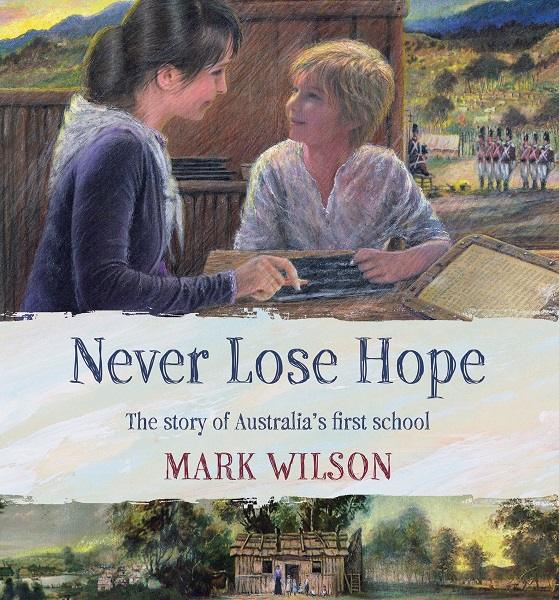 Mark Wilson, Never Lose Hope: The Story of Australia's First School, Hachette Australia, 27 March 2018, 32pp., $26.99 (hbk), ISBN: 9780734416797
Sent to Port Jackson on the First Fleet, nine-year-old John Hudson is the youngest convict sentenced to transportation. Starving, as food supplies from England dwindle, John is seen stealing two apples from a soldier's tent and is on the run to escape punishment. While in hiding on the outskirts of the convict settlement, he discovers a small hut occupied by a very young woman named Isabella Rosson who revives him with soup when he is on the verge of collapse. Isabella, a convict herself, teaches convict's children to read and write by using a stick in an improvised sand rectangle which she prepares for them each morning. John joins the group and learns to read and write and to copy out the three most important words from Isabella's journal, "Never lose hope." These words John scratches into a post in the ship's hold after he is caught and sent to Norfolk Island aboard the HMS Sirius to do hard labour.
This is an interesting and moving picture book written and illustrated by Mark Wilson with magnificent artwork from end papers to journal inserts and black and white sketches. The paintings are superb and capture the depth and poignancy of the text. It is an engaging book which has many aspects to explore, notably, early settlement, child convicts, justice and Australia's first schools. There is so much to experience in this beautifully created picture book that is suitable for middle to upper primary and early secondary levels. The final picture of John on his own farm and the page of facts known about the two main characters leads the reader to want to learn more and to take an interest in Australian history.
Inspired by the factual account of Isabella Rosson, Australia's first school teacher, and the story of John Hudson one of her first pupils, this is a story of resilience and hope. It is the perfect blend of fact and imagination, text and illustration, which makes Never Lose Hope a pleasure to read and a valuable addition to every school library and classroom.
Teacher's Notes can be found on the Hachette website.
Reviewed by Grace Nolan