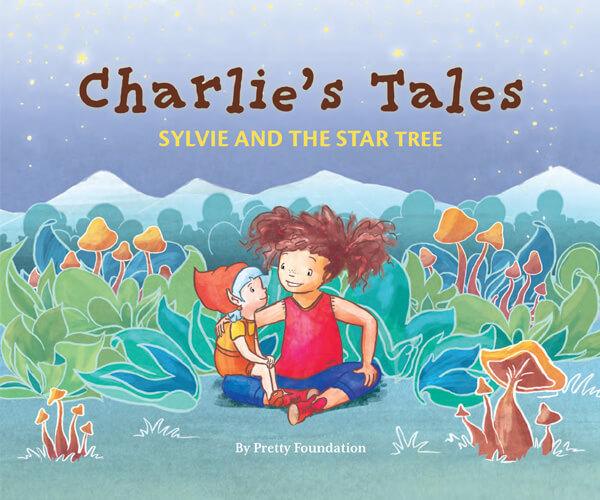 Pretty Foundation (text), Laura Stitzel (illus.), Charlie's Tales: Sylvie and the Star Tree, Pretty Foundation, Jan 2018, 30pp., $10.00 (pbk), ISBN 9780646982243
Specifically aimed at building positive body image awareness in young girls between two and six, the not-for-profit Pretty Foundation presents this sweet, light-hearted tale with clarity and charm. First in the Charlie's Tales series is Sylvie and the Star Tree; entrenched with the values of embracing diversity and having pride in who we are, our abilities and our appearance.
Grandma boosts young Ruby's self esteem by telling a story about a gnome who is little, just like she is… A girl named Charlie, the peer role model in this series, finds a small gnome, Sylvie, disengaged from the hive of bumbling gnomes attempting to climb a tree to reach the stars. Being told, 'you can't…' is a powerful statement that can easily become ingrained in one's perception of themselves if not encouraged otherwise. This is where Charlie steps in with her insight. The message, "Look within to find the glow" is epitomised in two lights; literally, as Sylvie physically retrieves a glowing star inside the hollow of the tree (a place where only she can fit), and intuitively as a metaphor for recognising your own talent and potential. Without Charlie's gift of empowerment, both Sylvie and Ruby may not have discovered their inner strength to believe in and accept themselves.
Told simply and gently, with beautiful, soft illustrations of characters with varied shapes, sizes and colours, this book spreads an important and valuable message to young girls about acknowledging difference, bullying and friendship and feeling special. 
Sylvie and the Star Tree is equipped with notes for parents and a link for further resources found at www.prettyfoundation.org.
Reviewed by Romi Sharp