Phoebe McArthur, Charlie Chaplin: The Usual Suspect, Christmas Press, July 2021, 180 pp., RRP $17.99 (pbk), ISBN 9780648815440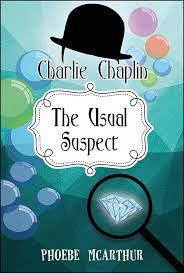 The city had always been Charlie's home and she was happy there. But just before she started high school, home changed. After Charlie's parents had a sudden divorce, her life was turned upside down and she had to leave everything she knew for the little country town of Gulgong.
Charlie thought she was in for a life of boredom and loneliness but was quickly proved wrong. On the night of their arrival there was a burglary and assault at the local jeweler. A mystery was afoot.
Charlie's new friend, Sarah, was the daughter of the prime suspect. With police who seemed content to go with the usual suspect, it was up to Charlie and Sarah to prove his innocence and catch the real thief.
Charlie Chaplin: The Usual suspect is a fun, fast-paced mystery novel. Amongst the intrigue the story touches on topics such as the difficulties of divorce and the freedoms and struggles of growing up. I enjoyed following Charlie as she tried to uncover the truth and learnt more than just who the thief was.
I would recommend this exciting mystery for young detectives aged 9-12.
Reviewed by Libby Boas