Rachel Bright (text) and Jim Field (illustrator), The Whale Who Wanted More, Hachette Australia, April 2021, 32 pp., RRP $15.99 (pbk), ISBN 9781408349229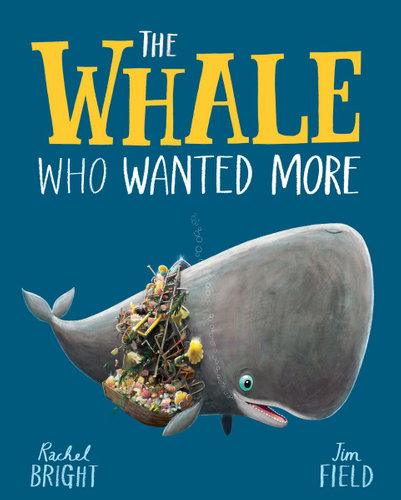 Humphrey is a huge whale with a huge appetite for stuff. Shells, treasure, whatever he can get his fins on. But somehow, the stuff he collects isn't satisfying his need for more. As he explores the ocean, he finds a crowded coral reef and a crab named Crystal, who teach him that perhaps he doesn't need to find more. Perhaps he needs to find something to give instead.
Bright's language here is rhythmic and fun to read out loud. The vocabulary is bright and bouncing – intriguing enough for young readers but not off-putting. Words like hubbub, rifled, lonesome, bounty, bickered serve to enhance the reading experience and can be added to vocabularies, much like Humphrey collects treasure.
Field has provided colourful illustrations that play deftly with water, light and shadow. The sea-creatures are full of personality and charm, and he has fun with scale here. My favourite pages were the ones that show just how huge Humphrey is in comparison to his new-found ocean friends.
Teachers and parents could us this book to discuss the higher-level vocabulary, as well as discuss the larger message of being part of and giving back to a community.
Reviewed by Madeleine Crofts