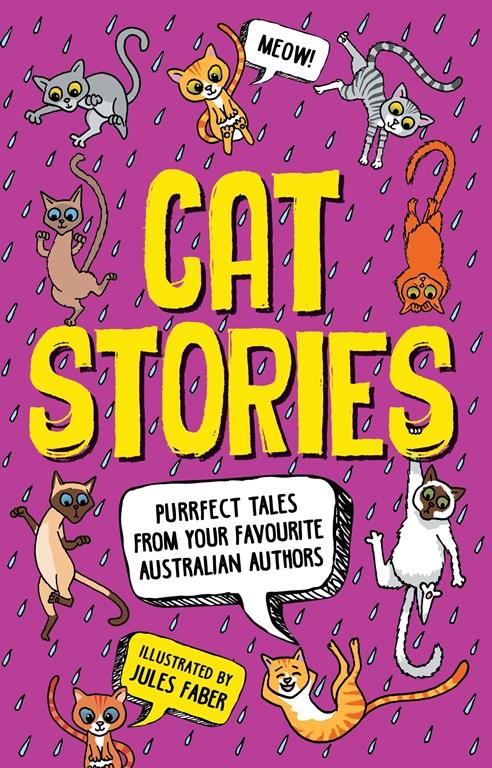 Various authors (text), Jules Faber (illus.),  Cat Stories, Random House Australia,  28 Nov 2016,  208pp., $14.99 (pbk),  ISBN: 9780143780991
Various authors (text), Jules Faber (illus.),  Dog Stories, Random House Australia,  28 Nov 2016,  208pp.,  $14.99 (pbk),  ISBN: 9780143780977
These collections of humorous stories will delight lovers of feline and canine alike. Popular children's authors such as Nick Falk, Belinda Murrell, Jacqueline Harvey, Tristan Bancks, RA Spratt and Aleesah Darlison fill the pages with crafty cats, devoted dogs and a variety of naughty pet antics.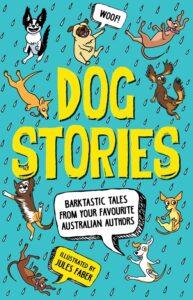 The books contain ten cat and eleven dog stories, interspersed with wonderful, cartoonish illustrations by Jules Faber. Some well-loved characters make their appearance: fans of Belinda Murrell's Lulu Rose will enjoy her cat's adventures in 'Pickles' and fans of RA Spratt's Nanny Piggins and Friday Barnes have 'Nanny Piggins and the Problem Cat' and 'The Case of the Missing Homework' to entertain them. It's worth noting that the stories by Tristan Bancks, Belinda Murrell and RA Spratt's Friday Barnes story have appeared in previous publications, so fans of some authors may find themselves re-reading one or two tales.
The stories range from comical to poignant, magical to factual, with themes of animal care and companionship weaving in and out of the narrative. Many of the pets are anthropomorphised, which adds to the humour, and animal narrators often feature. 'The Dog Kisser' by Tristan Bancks serves up a decent 'ick factor': the kids will love it, hygiene-conscious parents not so much! Other stories play with themes such as robot dogs, kitten births, spy pets, cats up trees, video games, zombie cats and, of course, dog poop.
Cat Stories and Dog Stories are entertaining, thought-provoking, fur-filled collections, ideal for pet-loving boys and girls alike. Perfect for bedtime reading, the stories could also be used for classroom entertainment or read by children who prefer shorter fiction. Most suitable for ages 7-10.
Reviewed by Georgina Ballantine