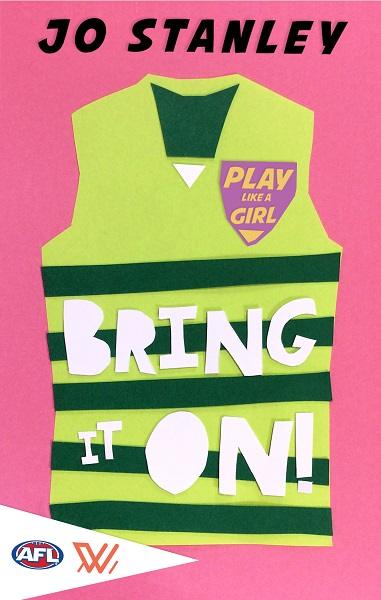 Jo Stanley,  Bring it On! (Play like a Girl #1),  Five Mile Press, Sept 2017, 80pp., $12.99 (pbk), ISBN 9781760409470
Bring it On! is the first in the junior novel series Play Like a Girl written by radio personality Jo Stanley in partnership with the AFL Women's League. It's a timely series with the beginning of the women's league this year and will appeal predominantly to girls already interested in footy. Bring it On! focuses on Sarah who is the new girl at Milsborough West Primary and makes friends by joining the Flyers footy team.
Sarah's first new friend is Hanh. Hanh is a first-generation Australian who lives with her extended Vietnamese family upstairs from the family restaurant. The coach, Shawna, and some other players are also introduced paving the way for the rest of the series.
Sports kids will relate to the pressure Sarah feels from Shawna. Sarah's tantrum, after Shawna gives her a hard time at her first training session, was well depicted and gave this straight-forward narrative a bit of grunt.
The book includes a link to ways kids can become involved in junior footy.
Reviewed by Heather Gallagher