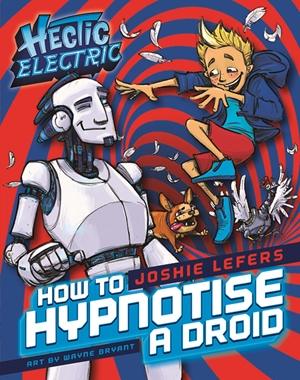 Joshie Lefers (text), Wayne Bryant (illus.), How to Hypnotise a Droid (Hectic Electric #1), Hardie Grant Egmont, 1 July 2017, 128pp.,  $12.99 (pbk),  ISBN 9781760128005
How to Hypnotise a Droid is part of a new series, Hectic Electric, and it is definitely ELECTRIC! This book is awesome and will have readers laughing just exploring the cover.
Don't be fooled by the mesmerising cover illustration though, this series will help children understand their own feelings of loss and empathy while igniting their passion for reading. The story cleverly draws the reader in with emotions that roller coaster between heart-felt moments at the loss of Joshie's Dad, frustrated understanding of his mum's dreaminess and the typical childhood antics that Joshie enjoys with the help of his baby-sitting robot.
Author, Joshie Lefers, is an energetic and enthusiastic Australian entrepreneur who, among lots of projects (including Nickelodeon Slimefest), has managed to fit in time to write this fun series for kids. Joshie Lefers studied literature at Melbourne University and Professional Writing and Editing at RMIT. In his own words:
'I've been diagnosed with overgrown-child syndrome so I had the best time ever writing about hypnotising a droid. I love the idea that kids are going to join me on this fantastic adventure.'
With amazing illustrations by Wayne Bryant and formatting that thrums with the rhythm of the story, How to Hypnotise a Droid is the next obvious choice for readers of the Treehouse series by Andy Griffiths and Terry Denton who are looking to challenge their reading skills to the next level.
Reviewed by Sharon Smith