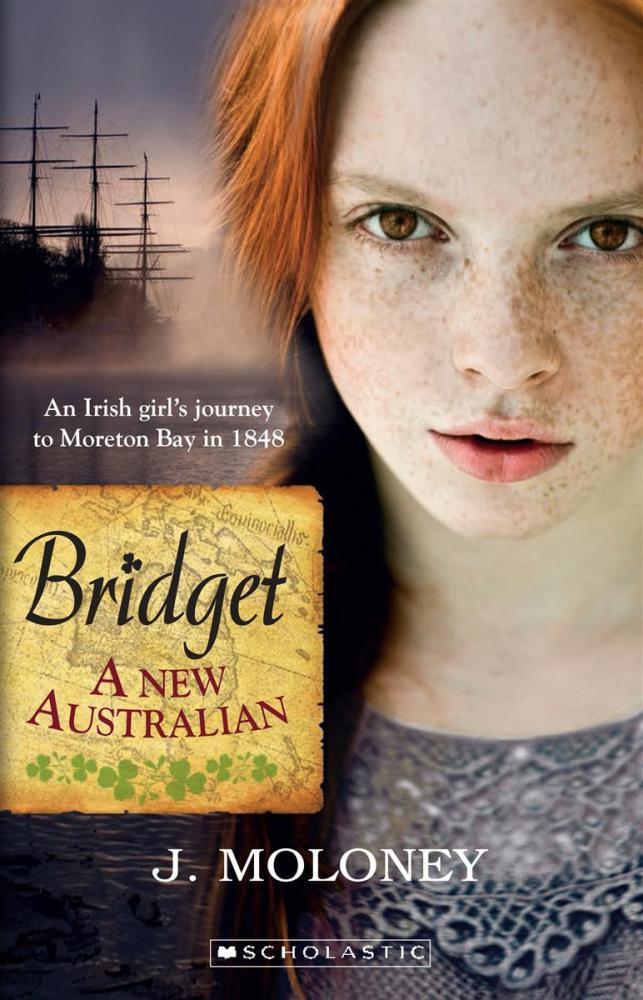 MOLONEY, J. Bridget: A New Australian Omnibus, 2015 248pp $15.99 pbk ISBN 9781742990989
This is the first in a new series of stories about children emigrating to Australia, in many ways a timely exploration of the diversity of the Australian population.  This particular book is about Bridget, who arrives from Ireland and finds herself in Brisbane town in the nineteenth century.
It begins when the Nelligen family are evicted from their home during the potato famine and it seems the only place they might be able to eke out a living is in England, where they are treated like second class citizens, working and living in the workhouse.  Here the family are separated, given endless work to do, with very little food to sustain them.  In addition, disease is ever present and it is quite normal for inmates to die an early death.
A sad set of circumstances enable Bridget and her older sister Maeve to board a ship and sail to Australia to take up positions as servants.  Their journey is eventful and their arrival disappointing when the uncle they were expecting to meet them doesn't show.  Left to their own devices, both girls struggle but eventually find ways to live in this foreign country.
While Maeve is a strong character, it is her little sister Bridget who shows remarkable resilience in her adaptation to her new life and her determination to find the sort of employment she really wants.  An enjoyable and historically interesting book with many little incidental details about how life was during these times.  Suitable for 8-14 year olds.
Teachers' Notes can be found on the publisher's website.
reviewed by Sue Clancy