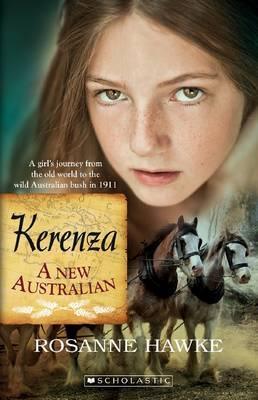 Rosanne Hawke,  Kerenza: a new Australian,  Omnibus/Scholastic,  1 April 2015,  256pp., $15.99 (pbk),   ISBN: 9781742 990606
I always enjoy reading history books from a first person point of view, even if the person doesn't quite exist, so I really enjoyed Kerenza: A New Australian. Kerenza is from Cornwall and the time is 1911. Her da (father) can no longer get work as a miner so Kerenza and most of her family move to South Australia and take up a farming life.
Life is very different in the mallee scrub; the temperature, the people she meets, the animals and plants she comes across – even the dangers she must face are different (and a  lot scarier) than those back in Cornwall. Her cousins speak a strange slang and cousin Jacob, whom Kerenza believes is the meanest boy she has ever met, plays tricks on her. She deals with the strangeness she faces by writing letters, initially filled with complaints, to her older sister who stayed in Cornwall.
Hawke is fourth generation Cornish-Australian herself – her ancestors arrived from Cornwall in 1856.  She includes lot of interesting historical facts when describing Kerenza's adventures; the way bread was made, how clothes were washed and how land was cleared. There are also mentions of Welsh fairy stories.
The characters are vivid and interesting, with the exception of the children's school teacher who was a little too contradictory for me. However, she is only a minor character. Kerenza and her troublesome family are fascinating.
For readers who enjoyed reading about Kerenza, there are other books in the new Australian series including one on Bridget who comes from Ireland, and one on Sian from Wales, which is coming out later this year. There are also teachers' notes on Kerenza: A New Australian at the Scholastic website.  Kerenza: A New Australian is suitable for children aged 8-12
reviewed by Katy Gerner