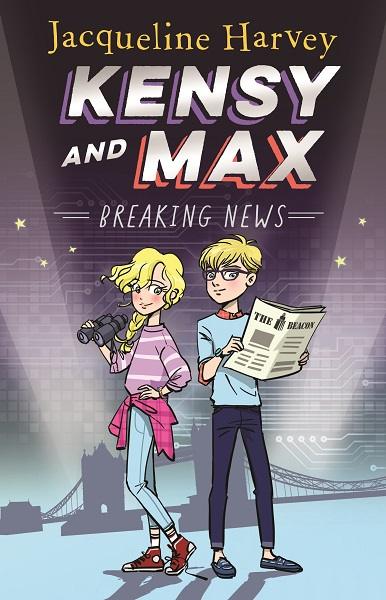 Jacqueline Harvey, Breaking News (Kensy and Max #1), Random House Australia, 26 Feb 2018,  336pp.,  $16.99 (pbk),  ISBN: 9780143780656
I first got to know Jacqueline Harvey's work when I was passing by my local bookstore and saw that she was slated to do a signing. I went along, curious about her work and walked into – I kid you not – a Jacqueline Harvey fanfest, with every kid there (and there were a lot) hanging on her every word about her Alice-Miranda series. So, I was thrilled to be able to review this newest addition to her work, which is guaranteed to get her a new legion of fans.
Kensy and Max are twins and, when the book begins, they find themselves in London, staying with their Uncle Fitz because their parents are missing. They are enrolled in school and are almost beginning a life there, while Fitz promises to find their parents. The twins are sceptical, but they trust their uncle, and begin their time at their new school – they find themselves meeting new people, new teachers, and making new friends.
However, all is not well.  Harvey keeps an undercurrent of unease in the story, which eventually sees the twins trying their best to figure out just why they're in London, with all their clothes and things, as if they've moved into a new home without their parents – and why the people around them are acting so strangely.
They are surrounded by a cast of characters that make the story easy to fall into, though I think young readers will constantly feel like they are missing out on something, just like Kensy and Max do.
The twins are precocious and fearless, which comes with being the kids who moved around a lot with their transient parents. There's a balance in them, of being a kid and being an old soul, worried about their parents, something I think, given their parents' jobs, they have done often.  The conclusion opens up a wonderful, adventurous new world. I imagine readers are going to love going on the journey Harvey has planned for them.
There is an adventure here, and something for the twins to solve, but at the heart of the story is family – for Kensy and Max, as they wait and worry for their parents, while finding new allies here. There's an easy camaraderie among these characters that makes this book a joy to read, and made me enjoy the idea of the adventures on which the twins and their friends and allies are embarking.
Reviewed by Verushka Byrow