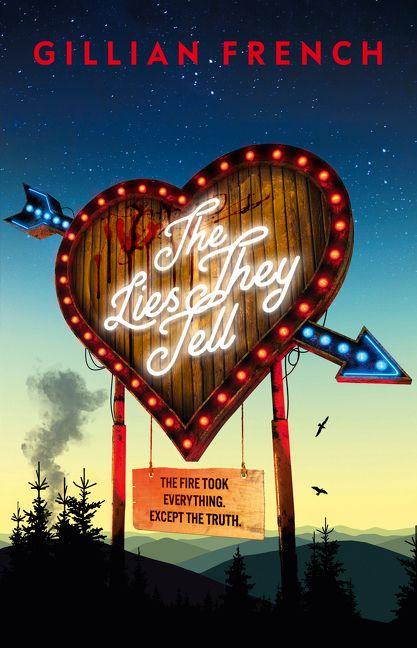 Gillian French, The Lies They Tell, HarperCollins Australia, 23 April 2018, 304pp.,  $19.99 (pbk),  ISBN: 9781460755808
The Lies They Tell feels a little like a darker Dawson's Creek. It's set in the small town of Tenney's Harbor, where the rich have summer houses, and the poorer townspeople rely on them for work.
The book opens after a horrible fire has claimed the lives of four members of the Garrison family. Pearl, a waitress at the town's country club is obsessed with the tragedy, namely because her father is believed to have been the cause of the fire somehow and as a result work for a caretaker like him is now scarce.
Tristan, the remaining Garrison boy, has returned to Tenney's Harbor much to everyone's surprise – they assumed it would be the last place he would want to be. He and his friends are rich, the kind of boys who have never worked to make tuition or to make ends meet. They go boating, they flirt outrageously with anyone and have big houses for big parties, and parents who tend to give them everything they ask for.
Pearl decides to get close to Tristan, to understand him and maybe find out something that would clear her father's name. To do she starts a relationship with one of his friends, Bridges, and proceeds to get closer to the group.
There is an undercurrent of darkness in this book, something French maintains wonderfully. For all the bright summer days, and this being a holiday town, French kept me on my edge of my seat, wondering what secrets Pearl would uncover, and even who would find out her secret – that she's getting close to this group to find out the truth about the fire.
Where the book could have done better is not embroiled Pearl in a romance with a boy called Reese, (think Pacey, for those who watched Dawson's Creek). It's pretty casual, even though she may have stronger feelings for him than he thinks. The issue I have with this is that he gets jealous when he discovers Pearl is seeing Bridges, yet, he is moving in with a girl and never told Pearl. Reese didn't actually have a purpose in the book other than this, and it felt like this plot element stuck out in an otherwise smooth narrative.
The Lies They Tell is an engrossing novel and Pearl is a focused, determined heroine, the type of which we need more.
Reviewed by Verushka Byrow