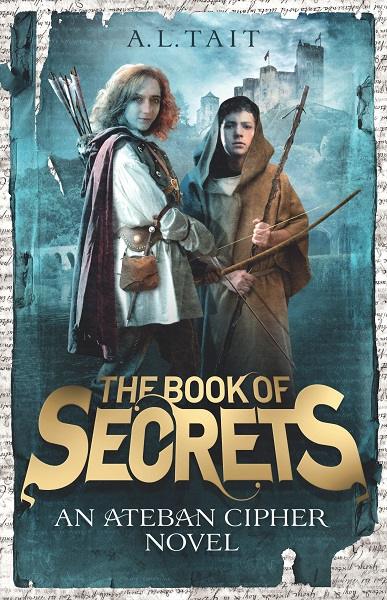 A L Tait, The Book of Secrets (The Ateban Cipher #1), Hachette Australia, 12 Sept 2017, 256pp.,  $14.99 (pbk), ISBN 9780734417671
This is the first book in a new series from Tait, The Ateban Cipher series. Gabe is a young initiate living in an abbey in England during the Middles Ages, where he is training to be a monk and take orders. Gabe's peaceful existence is horribly disrupted when he comes across one of the older monks, beaten and bloodied, who entrusts him with a small, beautiful book, and entreats him to hide it and take it to Aiden. Gabe is forced to flee the abbey and make his way in a world he has no experience of. Luckily for him, he is taken under the wing of a group of young outlaws, led by the capable Merry.
This is a face paced adventure story with a touch of the magical. There is plenty of action, swordplay, fast talking and improbable plans. There are some inconsistences of the internal logic and even a spelling mistake which detracts from the rollicking tale, but for the most part it should be enjoyed by young readers. There is some violence but it is largely of the boys-own-adventure variety. The end of this first book sets up the beginning of the next, which will no doubt be eagerly awaited by fans. This novel should do well in upper primary, lower secondary and public libraries.
Reviewed by Rebecca Kemble