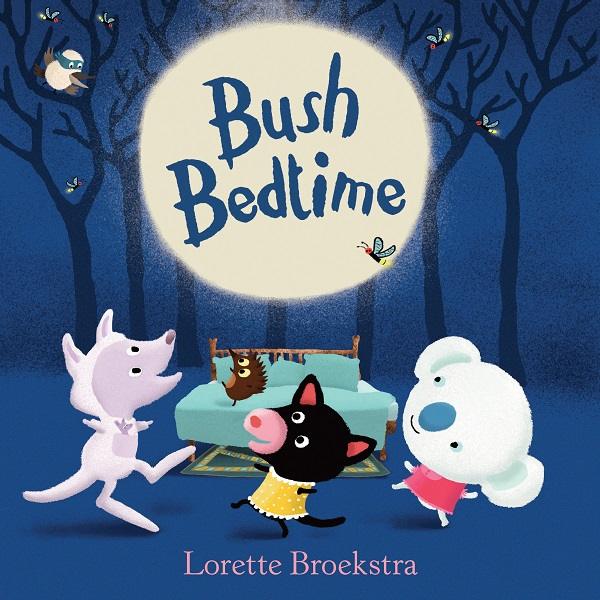 Lorette Broekstra,  Bush Bedtime, Allen & Unwin, Jan 2018, 24pp.,  $14.99 (hbk),  ISBN 9781925267068
Lorette Broekstra,  Bush Birthday, Allen & Unwin, Jan 2018, 24pp.,  $14.99 (hbk),  ISBN 9781925267051
These two companion picture books are both counting books featuring ten (if you don't count the joey in the pouch) cute, rather anthropomorphised Australian animals. Bush Bedtime counts back from ten to one while Bush Birthday counts up from one to ten.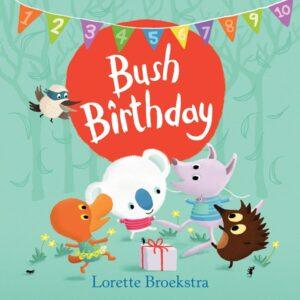 The first one, Bush Bedtime, starts with all ten mischievous animals out of bed and not at all sleepy. However, as the pages progress, the number of those out of bed decreases while those in the bed increase. The final double-page spread shows all ten in the bed, nine asleep and one climbing in after turning out the light. The final page does present a puzzle as the platypus is nowhere to be seen and there are only nine in the bed!
Bush Birthday counts up from one friend with a birthday present passing it along to number two, who then passes it to number three etc., gathering up the group of friends as they go. Eventually nine arrive at the billabong looking for the birthday friend who surprises them all before sharing cake.
The animals are reasonably recognisable, except perhaps for the blue-grey round furry creature which may or may not be a wombat. This does not really matter as the characters are just like small children and young readers should find them amusing and entertaining.
Reviewed by Lynne Babbage