Pip Harry, August & Jones, Hachette Australia, June 2022, 288 pp., RRP $16.99 (pbk), ISBN 9780734420350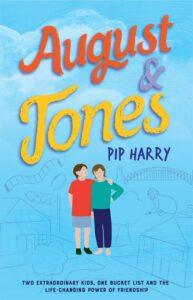 August is a 'nerdy' boy whose father is coach of the boy's football team – and football is something August really hates. Jones is a new girl at school. She has come from the country where her parents' farm has failed. She has also had retinoblastoma. The two are in Grade 5 and become firm friends. Jones is a kind of counterpoint to August – he is quiet and shy; she is boisterous and outspoken; she appears to be fearless while he is afraid of many things. He loves facts while she is less interested in them. Jones encourages August to tell his father he wants to give up football, but the real courage comes when Jones has to face the return of her cancer and its terrible consequences. August's support and friendship for her never flags and their friendship extends to their parents, helping Jones's parents settle into the city and to face her illness.
Jones's diagnosis is a shock, but this is ultimately an uplifting story. It valorises the importance of teamwork as Jones and August work together to cope with her changed circumstances. Jones's strength is the face of adversity is greatly tested but she is a spirited and courageous girl who also learns an important lesson – the value of allowing oneself to rely on another. August is steadfast and loyal – qualities that his father comes to recognise are more important characteristics of August than his ability (or not) to play football. Kindness and love are celebrated in this story of an unusual and moving friendship.
Reviewed by Margot Hillel