Emily X.R. Pan, An Arrow to the Moon, Hachette, April 2022, 320 pp., RRP $19.99 (pbk), ISBN 9781510102989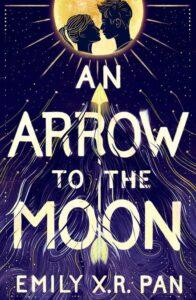 This novel is a modern-day Romeo and Juliet mixed with Chinese mythology – full of romance, magic, secrets, and fate.
Hunter Yee was born with supernatural aim – the mischievous wind his ally. But everything else in his life seems to be going amiss. Haunted by his parents' dark past and bearing the brunt of their fear and frustration, Hunter would up and leave if not for his sweet younger brother and the enchanting girl at his new school.
Luna Chang has always been a golden child – shaping herself to fit the mold her parents carefully carved for her. But with high school nearing its end and her life stretching out before her, the well-meaning expectations start to feel more stifling than anything else. Hunter Yee has just moved to her school and is exactly the kind of boy she should avoid. Not only does he have a reputation for trouble, but there's a vicious feud between their families. Except there seems to be a gravity drawing them to each other, and he doesn't exactly fit the nasty rumors she's heard.
Unearthly fireflies start flocking to Luna, and an ominous crack begins spreading across Fairbridge, setting in motion a fated series of events.
As Hunter and Luna navigate the feud between their families and uncover well-kept secrets, the lives they knew crumble around them. Will their love be enough to defy destiny?
An Arow to the Moon is a fun new take on the age-old tale of star-crossed lovers. Intertwined with the mystical are many very real moments to do with the struggles of adolescence, poverty, and family conflict. The story is narrated from multiple perspectives, including not only Hunter and Luna but also their families, giving readers further insights into the intricate situation.
If you're looking for a colourful YA low fantasy forbidden romance, An Arrow to the Moon may be the book for you.
Reviewed by Libby Boas