Rhiân Williams (text) and Tom Jellett (illustrator), Emergency! Emergency! Vehicles to the Rescue, Wild Dog Books, March 2022, 32 pp., RRP $24.99 (hbk), ISBN 9781742036106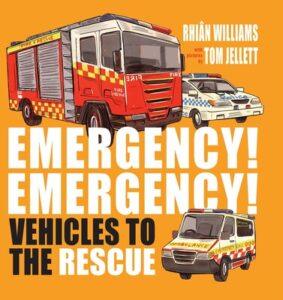 As a librarian I'm often frustrated by the lack of picture books about emergency services to meet frequent borrower requests. So, an Australian published book titled Emergency! Emergency! is most welcome and relevant to Australian kids. It represents specific features of our local emergency vehicles and includes uniquely Australian emergency scenarios – Royal Flying Doctor service, a flood, an Aussie bushfire, surf rescue jet skis. And it includes one small, but important safety detail – it references the 000 Australian emergency number.
On each double spread page Williams' text describes an emergency response scenario, with short, punchy, rhyming phrases, creating an upbeat, rhythmical tone of energy and urgency and tapping into the suspenseful drama of emergency services. For older kids who might like a more factual approach, the last two double spread pages are an illustrated glossary with brief explanations of each of the book's emergency vehicles.
The book's stand out feature is Tom Jellett's vibrantly coloured, distinctive computer graphic cartoon illustrations – a style that is appealing and much loved and has attracted several award shortlistings. I love the bold clarity of the images, against plain background, with realistic detail in the emergency vehicles and the emergency workers, so that the images are both informative and lively and engaging with a touch of cuteness.
The fabulous endpapers featuring a pattern of Jellett's emergency vehicles, deserves a mention too.
This book is bound to be a hit with picture book readers in a wide age range, from 18months – 6 years and I'm looking forward to sharing it with my toddler grandchild. It's a "must have" for Australian children's libraries.
Reviewed by Barbara Swartz