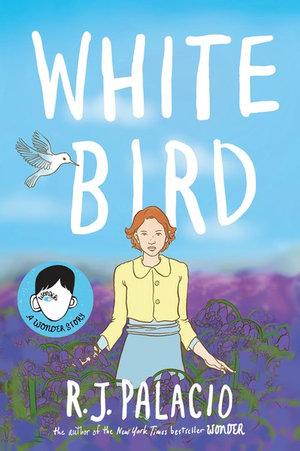 R. J. Palacio, White Bird, Penguin Books Ltd, 224 pp., October 2019, RRP $39.99 (hbk), ISBN 9780241397244
White Bird is R.J. Palacio's latest follow-up to Wonder — her runaway hit about a boy called Auggie who deals with prejudice and bullying because of his facial differences. Each of the Wonder books (which are not a series, but rather a family of complementary stories featuring characters from the original book) has been beautiful — and White Bird is no exception.
This gorgeous graphic novel will no doubt sate fans' desire for more, but it is also a terrific text in its own right. The story opens with Julian — the boy who bullied Auggie in Wonder — calling his grandmother, Sara, to ask her about her experiences as a young Jewish girl in France during World War II. It then goes back in time, as Sara recounts the story of how she avoided being rounded up by Nazi soldiers and was hidden in a barn by one of her classmates and his family for more than a year.
This book, like the other Wonder books, celebrates kindness and especially the courage it takes to show kindness in difficult circumstances. Sara's rescuer's name is Julien and he, like Auggie, is treated with disdain by many of his classmates because of his differences. He walks with crutches because he had polio as a child — and most of his classmates don't even know his name because they refer to him as Tourteau, which means crab in French. Sara is ashamed to admit she only learnt his real name after he saved her life. Once again, characters confront and make peace with the choices they have made. Like her grandson, Julian, Sara grapples with her guilt — but she offers a message of hope when she tells him 'Just remember: we are not defined by our mistakes… but by what we do after we've learned from them.'
White Bird is stunningly powerful, largely thanks to its simplicity. It is a pleasure to read because the layout, design and tone are all quite understated. Once again, R.J. Palacio deftly tackles prejudice and xenophobia — but this time it's through both a personal and a historical lens. The story and the non-fiction resources at the end provide a succinct and accessible account of the treatment of Jews and other minorities by the Nazis, but the book never feels overly didactic. Rather the characters make it real and relatable. The pain caused by the Holocaust comes to life because it is woven seamlessly through a tale of timeless and relatable school yard experiences — friendship, bullying, crushes.
There is plenty of literature out there for middle years readers about the Holocaust, but I strongly recommend this book as a great place to start. There is unlimited potential use with small groups or with a class. As well as important historical content, it explores big themes and ideas, features significant character development, dabbles in symbolism and magical realism, and is deftly structured. The teacher in me sees potential aplenty — but can I make one request to other educators? Before pulling it to bits, just let students read it in their own way at their own pace. Let it unfold in its beautiful, quiet way before going back in with the microscope. Otherwise the magic will be lost.
Highly recommended.
Reviewed by Liz Patterson