Kerry Edward, My Busy Day, self-published, October 2019, 28 pp., RRP $28.00 (hbk), ISBN 9780646805313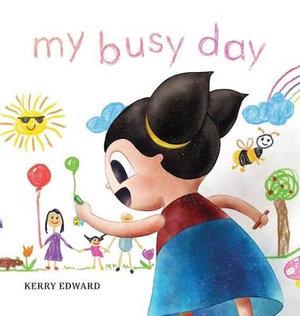 My Busy Day by Kerry Edward is a delightfully illustrated picture book about a young girl who tries to help with everyday activities like waking her parents up early, feeding her pets, cooking dinner and looking after her friends. The young girl seems to be around four years old and so her attempts at "helping" can also be seen from a different and amusing perspective.
This is a debut self-published novel for author/illustrator Kerry Edward. Edward is a user-interface designer based in Melbourne and has a background in graphic design.
The illustrations in My Busy Day have a gorgeous sense of soft light and shading that create a cosy household atmosphere. Each scene is generously and effectively spread over a double page. The girl and her parents have large eyes and dark pupils that distinguish them stylistically from her toys and pets. This invokes a nostalgia for me of the simple illustrative techniques that appealed to me in anime and manga I loved as a child, but with a layer of warmth from Edward's illustrative style. The overall effect is that each page feels like a textured watercolour painting.
The text is clear and easy to read. There is a use of relatable irony between the narrative and illustration. An example is when the text explains that from the young girl's perspective that she eats all of her food herself, whilst the illustration shows her giving her beloved dog Roxy a sneaky snack under the table. This would make a lovely book for reading with emerging readers to interpret the illustrations and text together. My Busy Day feels like a bedtime snuggling book.
I would have liked for the girl to have a name in the story, because I think Edward's illustrative style is distinctive enough for readers to want to share in her further adventures. I can imagine her within a series of stories. Two characters are named, Roxy the dog who is the girl's constant companion and Cherry a goldfish who survives a creative way of being looked after. Arguably, without a character name, perhaps younger readers can more easily identify their own helpful nature in this young girl.
With My Busy Day, Kerry Edward has created a visually appealing warm family story about a young girl who is thinking about how to take care of those around her that she loves. You can find out more My Busy Day via Kerry Edward's website.
Reviewed by Angela Brown
Read Angela's interview with Kerry here