Kate Gordon, Aster's Good, Right Things, Yellow Brick Books, November 2020, 196 pp., RRP $14.99 (pbk), ISBN 9780648492573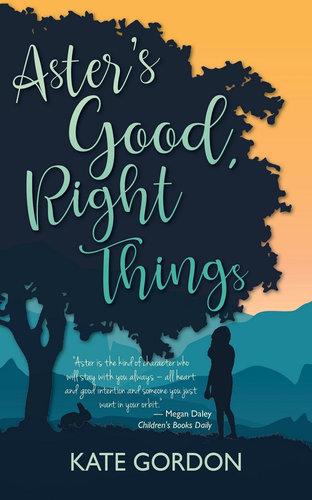 Tasmanian author Kate Gordon has done a brave thing in this novel as her central character is a person who suffers from anxiety, depression and low self- esteem. This can make for dreary reading, but such is Kate's skill in presenting Aster's inner life that we happily follow her journey to friendship and hope.
Since her mother left, eleven-year-old Aster does a secret good, right thing, something to help another person because she fears further loss. She thinks she is 'beyond help, the report said so' (p. 23), but gradually, over the course of thirty days, Aster makes new friends, develops some strength and confidence, and becomes more positive about her life.
Kate has structured the book in 30 short chapters, each one beginning with Aster's good right thing for that day. Sensitively written in Aster's voice we read about her loneliness at school where she takes refuge in the library but also makes friends with a rabbit. She meets Xavier who has his own problems and gradually forms a relationship with Indigo, the school rebel. Kate writes with feeling about situations that resonate with Aster's doubt and anguish. Aster is a loving child who has developed her own constantly evolving methods of coping with her life
Reading this story can be a painful experience. While it touches on so many serious themes, including parental separation, divorce, mental health, anxiety, loneliness, depression, courage and resilience, Aster's life does become more positive in the thirty days and therefore young readers, who may need some tissues while reading it, will gain insight and develop some empathy for people in these circumstances.   
Reviewed by Mia Macrossan