Chrissie Sains (text) and Jenny Taylor (illustrator), An Alien in the Jam Factory, Walker Books Australia, June 2021, 192 pp., RRP $14.99 (pbk), ISBN 9781406396126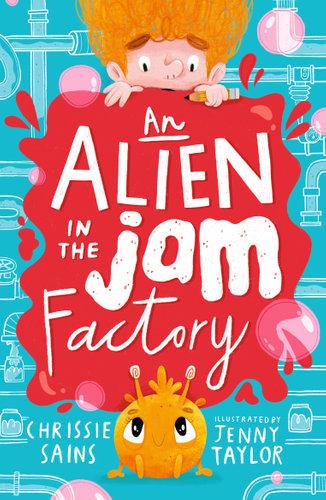 Meet Scooter McLay; a determined, hyper-creative, red-headed young boy with cerebral palsy. Scooter's hyper-creativity is put to good use in his parent's jam factory where he is chief inventor of weird and wonderful jam products and flavours, including Cherry Candy Floss Jam, Brussel Sprout Jam, Jam slices and Jam Smoothie Capsules. Life is pretty good for Scooter, but he yearns for a pet with whom he can share the secret world of the factory.
Enter 'Fizzbee', a small, orange ball of an alien who flies into the factory one day. Scooter and Fizzbee soon become friends and find themselves working together to quash the evil plans of their jealous neighbour Daffy Dodgy who wants to steal the factory's ideas. Adventures ensue…
This is a fast moving, humorous and imaginative story that middle grade children are sure to enjoy. Sains has a relaxed, easy-to-read writing style and a talent in describing amusing details. This combined with Jenny Taylor's cute and characterful illustrations keep readers well entertained throughout. The story finishes with an unresolved element so I am predicting there may be a follow-on book.
Reviewed by Julie Bertola