Davina Bell (text) and Allison Colpoys (Illustrator), All the Ways to be Smart, Scribe Publications, October 2018, 32 pp., RRP $24.99 (hbk), ISBN 9781925713435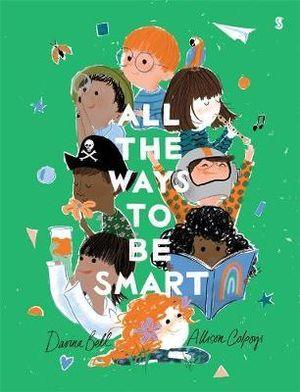 Bell and Colpoys have collaborated on two books before this one, The Underwater Fancy-Dress Parade and Under the Love Umbrella, both deeply thoughtful and heartwarming. So, it is no surprise that All The Ways To Be Smart is just as kind, compassionate and thought-provoking.
With her clever use of rhyme and her obvious excitement about all the things children love, Bell draws the reader quickly into a world of bugs and drawing and aeroplanes and flowers and space. She succinctly covers so many ways to be smart that there won't be a child who can't see themselves and their talents in this book.
The reference to tests and getting answers right could be an important discussion point for teachers and parents to talk about this kind of "smart" with their children. Colpoys' illustrations are bright and dynamic, but with a special kind of softness and calm. I could stare at both the daytime dreams and sitting quiet and still pages for ages and ages. Her use of monsters, dinosaurs and animals gives this book a whimsy and fantastic dimension everyone will enjoy.
Teachers could and should read this book to their classes at the beginning of the year, to start a conversation about what being "smart" is and means. Valuing children as whole people is so important, but more important is children valuing all the parts of themselves.
Reviewed by Madeleine Crofts