Alison Lester, Noni the Pony Rescues a Joey, Allen & Unwin, October 2018, 24 pp., (hbk), ISBN 9781760293123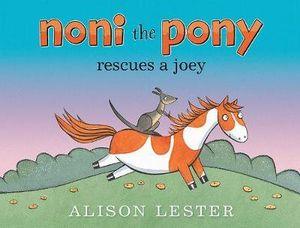 Noni and friends venture out for the day around Waratah Bay. Soon they discover a lost baby wallaby sad and alone. They kindly invite the baby wallaby on their walk to find his wallaby family.
Along the way, they encounter a host of animal friends including Koala, Possum, Wombat, Platypus and Emu – to mention a few!
As the sun sets and the day starts to end, will Joey the wallaby find his family again?
Following on from Noni the Pony and Noni the Pony Goes to the Beach, Alison Lester has created another firm favourite in Noni the Pony Rescues a Joey. Known for her wonderful, classic Australian stories, Alison cleverly introduces Australian native animals and their unique traits to a younger audience in this tale about reuniting a baby wallaby with his family. The effortless rhyme with signature Noni illustrations is a delight to read.
The themes of belonging and friendship, is well suited to pre-schoolers as it introduces the idea of team work and uniting together to help others in need.
Early childhood teachers and educators will find a host of activities to engage younger learners to name native Australian animals, raise awareness about safety when getting lost, discuss feelings of sadness, and find simple and fun words that rhyme.
Alison Lester continues to produce works that reflect Australian cultural and intellectual life, recently becoming the first children's book author to be awarded the Melbourne Prize for Literature 2018. It is a testament to Alison's dedication and contribution to Australian literature that there are not many teachers, parents, or caregivers that have not read one of her books.
As a picture book for younger audiences, Noni the Pony Rescues a Joey is certainly one for the bookshelf and sure to become a classic.
Reviewed by Shelley Stephens