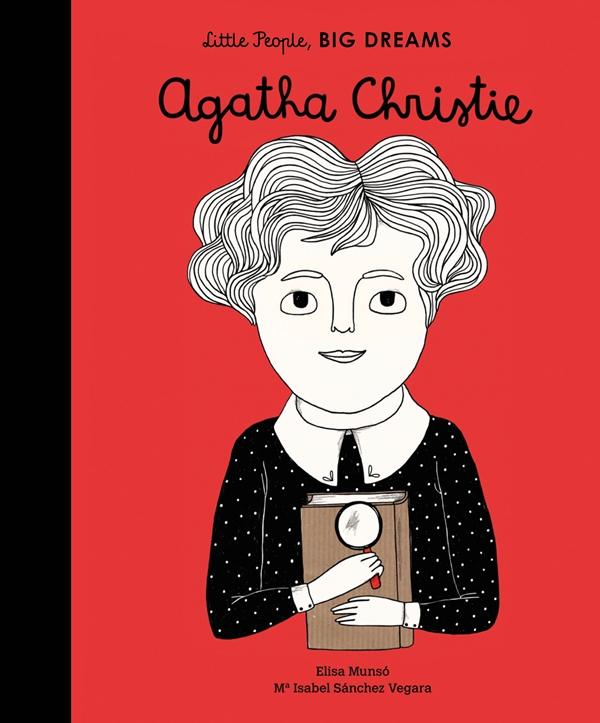 Isabel Sánchez Vegara (text), Elisa Munsó (illus.),  Agatha Christie (Little People, Big Dreams),  Murdoch Books,  march 2017,  32pp., $19.99 (hbk), ISBN: 9781847809599
Part of the Little People, Big Dreams series, this is a picture book about the author Agatha Christie. The text is brief, focusing on Christie's early love of reading and the life experiences that led her to become one of the most famous and well-loved crime writers of all time. In line with the 'big dreams' idea, it begins by explaining how as a child she always wanted to rewrite the endings of books that she read and concludes by noting that imagination can solve any mystery.
There are some intriguing facts throughout, including that Christie worked as a nurse in a pharmacy during the first World War, where she acquired her knowledge about poisons, which was, of course, put to good use in her many murder mysteries. The idea that she invented enough victims to fill a cemetery is also a fascinating fact.
The full page pictures are in a child-like art style that fits with what appears to be the central theme of the series: that children who dream can achieve great things. Although the pictures are predominantly black and white, touches of red highlight aspects of the drawings, adding vivid contrast. The colour scheme is, of course, highly appropriate for 'the queen of mystery'. At the end of the book there is a two page biography that provides more detail about her life as well as four photographs spanning from her youth to her old age.
Other books in the series look at the life of Frida Kahlo, Coco Chanel, Maya Angelou, Amelia Earhart and Marie Curie. These books are a very accessible way of introducing young readers to significant women of achievement. They would make a lovely addition to a children's bookshelf with their bold colours and cloth bound spines harking back to the golden days of book production.
Reviewed by Rachel le Rossignol