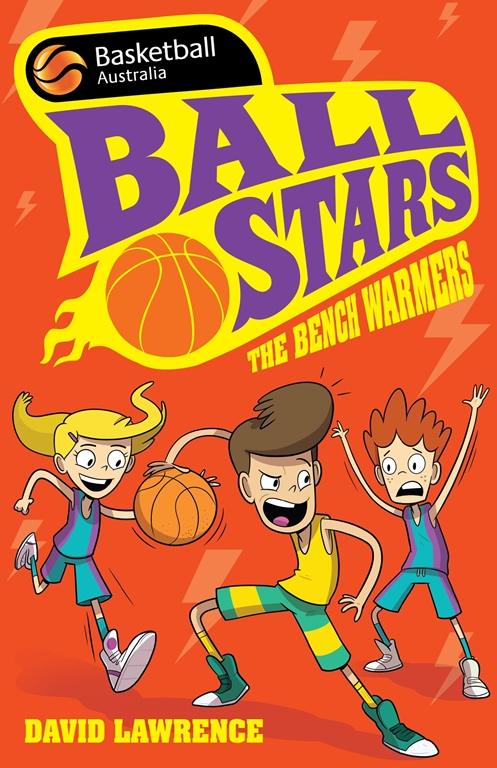 David Lawrence (text), James Hart (illus.),  The Bench Warmers (Ball Stars #1),  Random House Australia,  30 Jan 2017,  144pp.,  $12.99 (pbk),  ISBN: 9780143781639
Danny is not a sporty kid. He likes PC games and comics, spending a lot of time in his room on his computer, to his parents' despair. Then his family move to a new house with a basketball hoop over the garage, and he discovers he likes the 'swish' a basketball makes when it goes through the hoop. He also learns that he has a knack for shooting hoops. When he starts at his new school, this talent quickly sees him caught up in the school basketball team, even though he doesn't know the rules of the game. He makes friends with the other team members, and they soon discover that the worst thing they need to face is not the opposing teams, but their principal, who wants them to win the inter-basketball trophy for her personal glory, no matter the cost.
The Bench Warmers is a chapter book with a great story, an array of quirky characters and a lot of humour. It captures the issues of the early teenage years really well, with a young hero who loves Nintendo and Wolverine, finds his parents strange and embarrassing, and has to learn to stand up for what matters. Danny learns from his mistakes and realises that to be really good at basketball he has to work at it, which he does, developing a range of skills whilst helping his teammates improve too.
The book tackles diversity well – the school basketball team is made up of both genders, kids from different backgrounds and physicalities (e.g. Australian, Sudanese, tall, very short) and personality types (confident, very quiet etc.). They have an array of abilities and have to learn to appreciate what each person contributes in order to achieve. There are many great examples of teamwork and sporting behaviour. Faced with the unfair behaviour of their principal, Miss Take, the team members stick up for each other and work together to force Miss Take to negotiate a fairer system for everyone.
There are cartoon-like pictures of the characters throughout, and one of the team, Cody, is a gifted commentator whose commentary is written in a different font, adding to the book's visual appeal. Sporty kids will love the descriptions of the games, while others will enjoy the story of a group of kids overcoming a self-absorbed, hypocritical adult to make things fairer for everyone. Many of the character names are puns and the adults are slightly caricatured, in a fun way that kids will enjoy: the visual image of Danny's dad trying to squeeze into his high school basketball uniform, and his accompanying delusion around how it looks, is hilarious.
The book ends with a page of dribbling tips, a page of shooting tips and information about the Aussie Hoops program, so anyone inspired by the story can get involved with local basketball opportunities.
Reviewed by Rachel le Rossignol