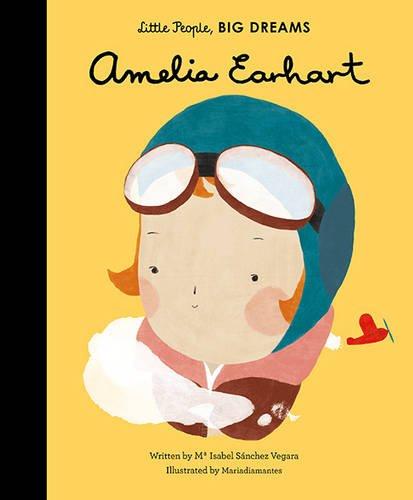 Isabel Sanchez Vegara (text), Mariadiamantes (illus.), Amelia Earhart (Little People, Big Dreams), Frances Lincoln,  1 Sept 2016, 32pp., $19.99 (hbk), ISBN 9781847808851
The inspirational story of Amelia Earhart, the most famous female pilot of the twentieth century, is told in this appealing picture book. It begins with the dream of a little girl wanting to fly like a bird and follows her adventures as the first woman to fly to an altitude of 14 000 feet. She becomes a legendary aviator in her own lifetime, attempting an around the world trip from which she never returns. She breaks world records, establishes an organisation which supports female pilots and becomes the first person to fly solo across the Pacific Ocean.
Amelia Earhart's story is told in engaging and sparse text and is supported by simple yet striking artwork which bring this memorable story to life. Every illustration is a double page spread with abundant use of blue skies throughout to highlight the scale of Earhart's epic journeys. At the end of the text actual photos and a short history of this amazing woman add to the interest of this attractively bound picture book which will appeal to 5 to 8 year old children. It will also lead the way to further exploration of the history of aviation and the role female pioneers played. This book is part of the Little People, Big Dreams series which includes biographies of Coco Chanel, Frida Kahlo and Maya Angelou.
Reviewed by Grace Nolan