Alan Lightman and Olga Pastuchiv (text) and Susanna Chapman (illustrator), Ada and the Galaxies, Walker Books Australia, September 2021, RRP $29.99 (hbk), ISBN 9781536215618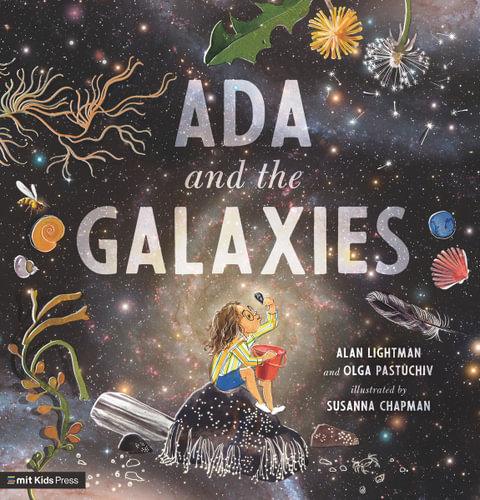 New York Times bestselling author and renowned physicist, Alan Lightman, has collaborated with children's book author Olga Pastuchiv and illustrator Susanna Chapman to create this stunning picture-book.
When Ada stays with her grandparents (Poobah and Ama) at their island home in Maine, she knows she will be treated to the true awe and wonder of her surroundings. By day she tracks osprey, paddles kayaks, and hunts for shells with her family, but it's the dark evenings that Ada really looks forward to.
Far away from the light pollution of her New York home, Ada waits until the tide rises to cover her beloved Poobah's rock, because that means it's finally dark enough to see the stars come out. But when a fog comes rolling in across the usually clear, wide island skies, Ada's stargazing plans are spoilt and it's down to Poobah to bring the vast puzzle of the universe to Ada in a different way… just until the weather clears again.
"Do galaxies have seashells and moss?" asked Ada.
"They probably do," says Poobah.
"Why?" asked Ada.
"Because everything in the universe is made out of the same stuff," says Poobah. "It's all part of nature. Even things that we can't see."
This gentle story and its fascinating facts are brought to life by its colourful illustrations. Each page is adorned with swirling stars and earthly treasures from feathers and seaweed fronds to living creatures and fossils. Ada and the Galaxies marries the beauty of immense, distant galaxies with one child's experiences and curiosity down on Earth, using a clever layering of photographs taken from the Hubble telescope and Chapman's expressive, intricate art.
Aimed at primary aged children, this picture book is a tribute to the interconnectedness of the natural world, and to the precious gift of sharing experience and enthusiasm with those we love.
Reviewed by Lisa Hoad