Professor Lisa Harvey-Smith (text) and First Dog on the Moon (illustrator) Little book, BIG universe: A guide to exploring Australia's night skies, Thames & Hudson Australia, September 2021, 8pp., RRP $4.99 (pbk), ISBN 9781760762292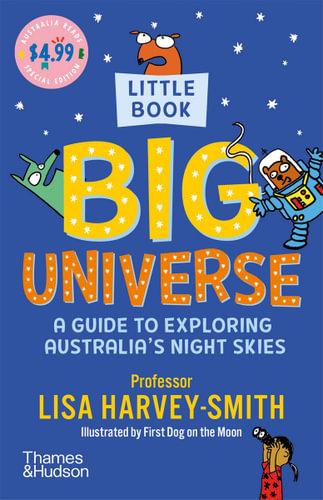 This little book with the amazing price is one of the four titles in this year's Australia Reads program. The operative word in the title is 'exploring' because the emphasis in the text is on how to look at our night sky and the tools the reader can use to locate and identify various astronomical bodies and then photograph and study them.
Chapters cover topics such as the best locations for stargazing, some apps and websites which will help, how to choose and use the best equipment such as binoculars, telescopes and cameras and suggestions for joining local organisations. There are also sections on constellations, planets, the moon and the International Space Station
Lisa Harvey-Smith is a British-Australian astrophysicist, Australia's first Women in STEM Ambassador and Professor of Practice in Science Communication at the University of NSW. She has also been awarded the Eureka Prize and has worked for the CSIRO. In addition, she has been a commentator and broadcaster so she is eminently qualified to write about the fascinating topics of astronomy and astrophysics.
Not all scientists can write about their area of expertise so that young readers can understand the concepts involved without oversimplifying or 'dumbing down' the content. This book is extremely well-written in a conversational tone and is an excellent 'primer' with lots of personal experiences from Lisa's own adolescence. Unfortunately, while the illustrations are attractive black-and-white drawings which add humour there are no accurate diagrams to show the various bodies described in the text, such as the shape of Orion or a map of the 'seas' on the moon. But for this price, this little book is a bargain, and it ends with not only fun facts and a glossary but also a list of helpful resources. No index, however.
Reviewed by Lynne Babbage