David Atherton (text) and Alice Bowsher (illustrator), My First Green Cook Book: Vegetarian Recipes for Young Cooks, Walker Books Australia, September 2021, 78 pp., RRP $32.99 (hbk), ISBN 9781529500608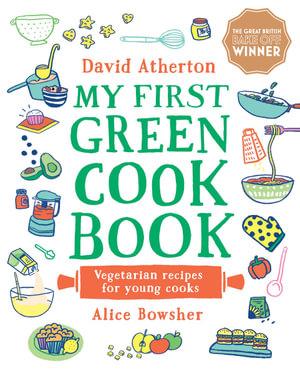 My First Green Cook Book: Vegetarian Recipes for Young Cooks is packed full of vegetarian recipes for kids, including classics like spaghetti 'bolognese' and cheesy veggie bake, as well as more inventive dishes like pea-camole and cauli hot wings. Most of the recipes have added vegetables or 'superfoods', like the strawberry pink scones that get their colour from beetroot, and the ice-dream smoothie made with frozen cauliflower. Each recipe has an introduction, an illustrated ingredients list and step-by-step illustrated instructions. The book also includes a foreword from the author David Atherton (an international health advisor and The Great British Bake Off winner) as well as information about healthy eating, cooking essentials and what it means to 'eat green'.
My family tested two recipes, cheesy rabbit biscuits and spring butterfly cupcakes (made with peas!), and my kids enjoyed baking and eating both. The instructions were easy to follow, and the food was visually appealing. They've picked out lots of other recipes they're looking forward to trying, like the spooky carrot soup and sweetcorn potato cakes.
This book would be a fantastic introduction for families wanting to include more vegetarian foods in their diet, or for vegetarians looking for new recipes. Vegetable avoiders and picky eaters might be put off by some of the healthy additions, but involving kids in cooking is a great way to encourage them to try new foods. Older children will be able to cook most recipes independently, while youngsters will enjoy following along with the fun illustrations.
Reviewed by Laura Holloway