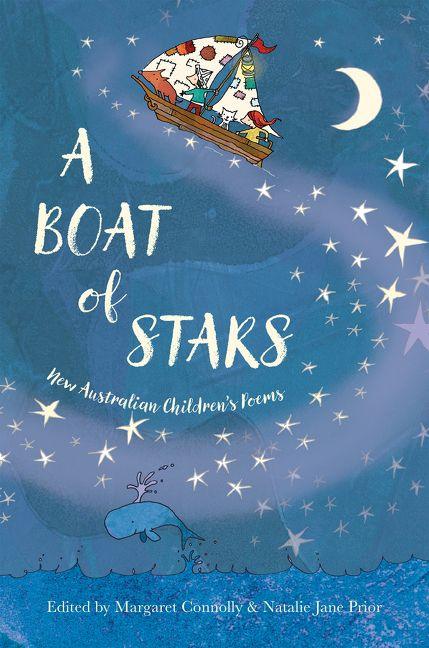 Margaret Connolly & Natalie Jan Prior (editors) A Boat of Stars: new poems to inspire and enchant, ABC Books/HarperCollins Australia, 19 Feb 2018, 127pp., $29.99 (hbk),  ISBN: 9780733337932
Talk to anyone who reads books to children and they will tell you that children love the Dr Seuss book for their rhythm, their rhymes and their madness. This collection of poems is inspired by a love for bringing this kind of poetry to children. Each poem is accompanied by a double page illustration in colour (usually water colour) by many different artists. It is all lively and joyous. Sophie Masson has written a poem introducing a new baby to its new family, Alexa Moses has a poem in praise of pyjamas, with delightful crocodile illustrations. Moses also has a poem against ('slug-slimy, greeny') zucchini. Leslie Gibbs offers up the school day as a feast of experiences, and Carlie Gibson writes of a girl's love for her particular 'spot' to sit and be. Pauline O'Carolan's 'I don't like getting dressed' will be a favourite for children exploring this book. There are many surprises and lots of rhyming on every page of this book. It is a book to go through slowly, over many days, savouring each aspect of being alive, and being alive to the language, that it brings to our notice. Recommended for three to fifty-three years old.
A Teaching Guide is available on the HarperCollins website.
Reviewed by Kevin Brophy