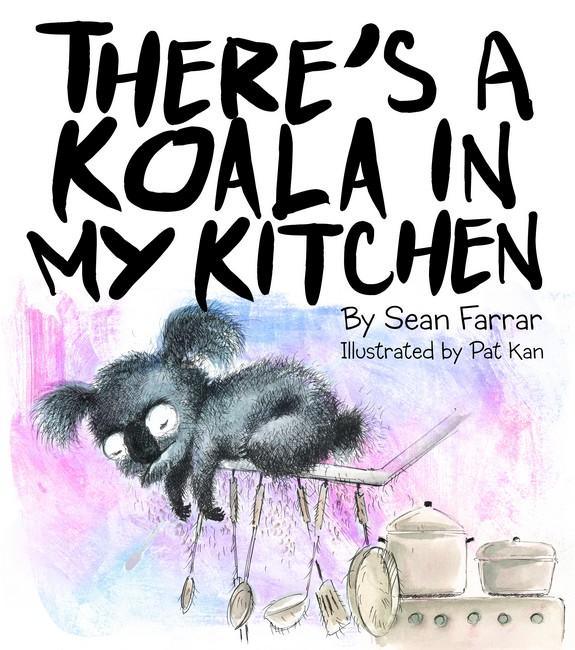 Sean Farrar (text), Pat Kan (illus.), There's a Koala in My Kitchen, Big Sky Publishing, April 2017, 32pp.,  $24.99 (hbk), ISBN 9781925520262
In this raucous, rhyming picture book series created by Sean Farrar, an energetic menagerie of Australian fauna go wild in the most nonsensical ways. The concept, writing style and illustrations of There's a Magpie in My Soup and There's a Koala in My Kitchen are in similar vein, allowing readers a sense of familiarity but adding the spark of new, feisty characters.
With a cheerful demeanour and play on phonetics, the text is fun to read aloud, despite a slight stagger in some places. The illustrations by Pat Kan exude a cacophonous tone of their own, highlighting the spirit of this waggishness with their mixture of watercolour splashes and heavily detailed line etchings.
The comical chaos begins with a slumbering koala over-arching the pots and pans in the kitchen. More zany, dominating creatures follow, including an overweight platypus in the pond, a noisy pobblebonk (it's a frog) in the bunk, an obnoxious kookaburra in Dad's cooker and a sliding great white shark at the park. A soothing ending ties it altogether (but where was the giddy goanna as promised in the last book?).
Children from age four will be in raptures with the chucklesome antics as seen in There's a Koala in My Kitchen. Another fun one that also provides opportunities for studies into Australian wildlife, creative writing and imaginative role play.
Reviewed by Romi Sharp