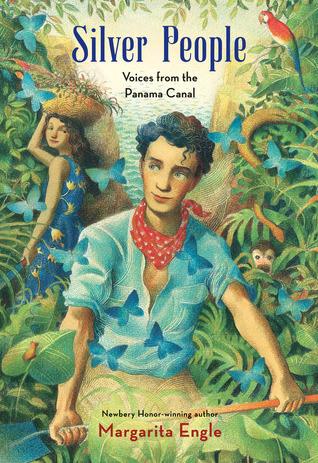 ENGLE, Margarita Silver People: a tale from the Panama Canal UQP, 2014 215pp $16.95 pbk ISBN 9780702253294 SCIS 1654117
Margarita Engle is a Cuban American author, poet and journalist who has also been a botanist and professor at California State Polytechnic University.  She was the first Latino author awarded a Newbery Honor book award, for The Surrender Tree: Poems of Cuba's Struggle for Freedom.  Latin American issues are very dear to her and Silver People is the latest to focus on a little-known area of history.
It is now a century since the Panama Canal was opened.  Very few people realise that labourers dug much of the canal by hand with shovels.  Many of these people came from various Caribbean islands including Jamaica and Cuba.  The work was backbreaking and the pay was a pittance.  These workers were exploited and severely punished if they complained or tried to escape.
In this verse novel, Engle gives voice not only to the workers but also to others deeply affected by the construction of the canal, including the wildlife.  There are poems in the voices of the howler monkeys, the ants and the hummingbirds, among others, along with local girl Anita and the main characters Henry and Mateo.
The free verse is beautifully written and evokes both the landscape and the emotions.  However the subject matter may not be as relevant and appealing to an Australian readership as it is to North and Central America and the islands off their shores.
reviewed by Lynne Babbage