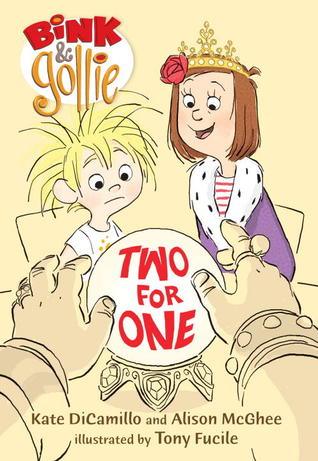 DiCAMILLO, Kate & Alison McGhee (text) Tony Fucile (illus.) Bink & Gollie: Two for One Walker, 2013 81pp $14.99 pbk ISBN 9781406344967 SCIS 1606320
This book was first published in 2012, and this edition in 2013.  It's the second Bink and Gollie book, but it can stand alone – it will make sense to the reader who hasn't read the first book.  In this story, the girls go to the state fair, and sample the many delights open to them there.
The text is absolutely minimal, but each word is perfectly chosen.  It is funny and charming.  The illustrations are just wonderful – most of the story is told through the illustrations and they are very appealing.  The illustrator worked for 20 years as an animator in cartoon feature films, and it shows.  The drawings of the characters are very expressive and each picture tells a story in itself.
I admit that on the first reading of this book I wasn't sold, but with each subsequent reading I noticed new details and enjoyed the book more and more.  I found the girls themselves initially puzzling as Gollie looks like a 13 year old and Bink like a 4 year old, and so I thought they must be sisters.  As it turns out they are just friends – a tall friend and a short friend.  Recommended for primary school and public libraries.
reviewed by Rebecca Kemble