Kamilla Benko, Secret in the Stone (The Unicorn Quest, #2), Bloomsbury Publishing, March 2019, 336 pp., RRP $14.99 (pbk), ISBN 978140889851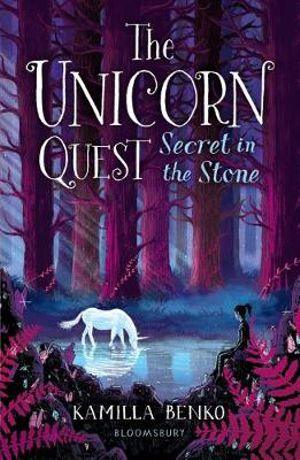 Claire and Sophie are sisters who have found their way into the kingdom of Arden and released the last unicorn from a stone prison. In this second book in The Unicorn Quest series, the sisters travel from one part of Arden to another, trying to help their friends while escaping from their enemies and uncovering more about the plot to bring back evil Queen Estella and start a war between the different magic guilds. And the key seems to lie with finding a way to bring the unicorns back to Arden.
Readers should definitely start with the first book in the series, as the story in Secret in the Stone is very clearly a continuation of the first. I found it took me a little longer to connect with the characters than it might have had I begun at the beginning.
I found the concepts behind the story to be intriguing, from the world of Arden to the significance of the unicorns within that world, and the different types of magic that function within Arden and how they work together. And the story builds up to a twist that should have some very interesting implications for the third book in the series.
Under the fantasy elements, Secret in the Stone explores Claire's and Sophie's struggles to find out who they are and what they are capable of. The narrative is through Claire's eyes, and we follow her attempts to find her courage and help her sister, and also to find her own skill and strength as an individual. Sophie, on the other hand, is an adventurous girl who feels that she has missed out on so much because of the dreadful illness that brought her to Arden, and which seems to have been cured by the last unicorn. The dynamics are explored between two very different sisters who clearly love and care for each other but who also drive each other crazy at times.
When this book works, it works very well. There are some striking ideas and moments, and I was particularly caught by the descriptions and concept of the Drowning Fortress at the climax of the book. However, there were times when the writing and narrative flow felt a little stilted and awkward, like the structure of a classic fantasy video game where random items are collected from helpful characters to complete each stage of the quest. That said, I don't think that younger readers would have the same issues that I did with the narrative structure.
The Unicorn Quest series is clearly aimed at girls of 9 to 12 who enjoy door-into-another-world fantasy stories and unicorns, and by and large I think this book hits the mark.
Reviewed by Emily Clarke