Anna Ciddor, 52 Mondays, Allen & Unwin, March 2019, 208 pp., RRP $14.99 (pbk), ISBN 9781760523480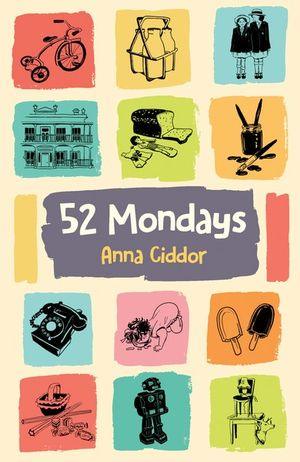 52 Mondays is Anna Ciddor's charmingly nostalgic memories of growing up in Melbourne in the 1960s. Each chapter is a brief vignette, easy to read and simply told, and strung together with the thread of Anna's search for a special doll to call her own.
Ciddor takes us through memories of the time she saved an icy pole in her school bag for later (that didn't go too well), and the birthday party she shared with her younger sister, to hunting through the local auction house every Monday for a whole year to find the kind of doll she desperately wanted. There are moments when she celebrated Jewish Passover with the whole family, and slept over at her grandparents' house, and charming memories of playing with her sisters. There is a definite nostalgic glow over the stories, but Ciddor steers clear of the overly saccharine in the telling.
The language of this book is uncluttered and delightfully simple, and the way it is structured as a series of distinct chapters and encapsulated memories would make it a good one for readers, particularly young girls aged 7 to 11, who are transitioning from basic chapter books into something with a little more meat.
The anecdotes begin with Anna's memory of reading a book about a doll and getting caught up in the story, and her newly awakened interest in dolls becomes a running theme that crops up in many of the memories. The background of the time that Anna is remembering adds an interesting dimension to the story, and could be a good tool in a classroom discussion about times gone by and what things were like in the 1960s, but the history doesn't overwhelm the book. The focus is Anna and her family, and I found myself enjoying these moments in her childhood very much.
Reviewed by Emily Clarke