Peter Millett (text) and Myles Lawford (illustrator), Power Up! (The Invincibles #1), Scholastic New Zealand Ltd, 144 pp., July 2019, RRP $12.99 (hbk), ISBN 9781775435990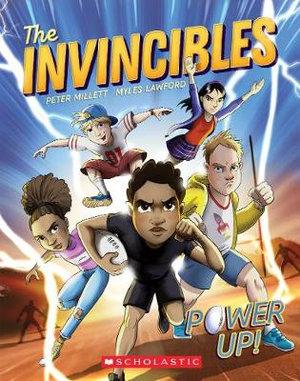 The Invincibles is the first in a new series featuring five young footy players who get struck by lightning and develop superpowers. Muzza, Andrea, Scotty, Tana and Zinnia meet at try-outs, and find themselves forming a team of an unexpected kind when lightning hits the footy field. They discover their new-found abilities when nearby sheep take to the air, and are quick to test out the limits of what they can do. But they discover there's a catch – their powers only last as long as a footy game. Luckily, they realise they have a way to activate them again, and when they do, they find themselves up against an ex-footballer with an evil plot that involves kidnapping a professional team and substituting them with robots.
Although The Invincibles is not a graphic novel, the black and white artwork is in that style, giving the story an exciting sense of constant action. Pop culture references such as Marvel and Star Wars give it a very current feel. The leads are a diverse group both in terms of gender and race, as well as powers: they discover they have super strength, flying super speed, and x-ray vision, amongst other abilities. Scotty's superpower is his super-fart, which turns out to be a crucial asset when the team come face to face with a group of deadly robot footballers. The supporting cast includes a pair of newly super-powered sheep.
The book comes with a pull-out set of six full-colour character cards detailing The Invincibles' powers. It is a hilarious, super-fast paced adventure with lots of sports and superhero action. Warning: a sheep was harmed in the making of this story, but it all turns out okay in the end.
Reviewed by Rachel Le Rossignol