Phillip Gwynne, The Lords of Melody, Puffin Books, 272 pp., September 2019, RRP $16.99 (pbk), ISBN 9780143796459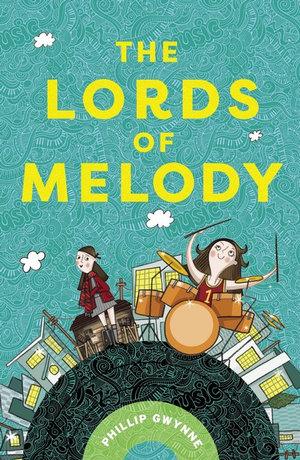 Suzi and her older sister Janet live with their parents, ex-rock and roll stars Katy and Strum, in the worst house on a pretty posh street. Janet won a scholarship to a private school and is embarrassed by her family situation while Suzi is pretty happy-go-lucky and takes everything in her stride – including discovering that Katy's dead brother, Pigpen, can talk to her through her Android tablet.
Wanting to keep up with her rich friends, Janet dreams of going on the school skiing trip to France. She devises a plan to turn their spare bedroom, which used to belong to Pigpen, into a room they can rent out on ZedBedZ to tourists. This will allow her to get the money for the trip. The plan is ruined due to the intervention of a pushy real-estate agent and his neighbourhood cronies. However, when Suzi, who is soccer mad, breaks her leg, she has to find another outlet for her time and energy, and when Pigpen starts teaching her the drums, she comes up with a new plan to help her sister.
The Lords of Melody is a small print chapter book, so suitable for confident readers. It has a wide array of quirky and fascinating characters. At the centre is Suzi, who has a big heart, but her family is equally as endearing and authentically drawn. The story deals with complex issues such as the impact of a parent leaving, and how class differences can impact on people. At the same time, it has an intriguing, complex plot that zips along with plenty of complications and twists. The reader is taken on a crazy ride involving Jimi Hendrix impersonations, ghosts, schnoodles and all the embarrassing things families do to each other. In the end Suzi heals some family rifts, finds her hidden talent, solves some impossible problems and learns you can't stop the music.
Reviewed by Rachel Le Rossignol