Mary Murphy (text) and Zhu Cheng-Liang (illustrator), What I Like Most, Walker Books Ltd, 32 pp., November 2019, RRP $24.99 (hbk), ISBN 9781406369045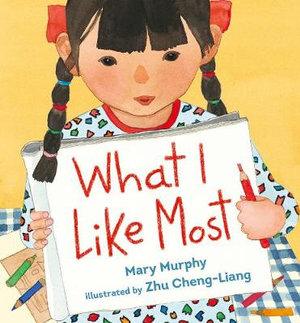 What I Like Most is a heart-warming story by Mary Murphy. Told from the perspective of a young girl, who begins by telling the reader that what she likes most in the world is her window. Describing what she can see through her window she quickly moves to reflecting on how what she sees will change over time, 'My window won't change, but the things outside will.' Her window is what she likes most in the world, except…in turn the girl describes her other most favourite items in the world, apricot jam, her light-up shoes, a red pencil, her teddy and so on. With each item the young girl is able to identify how the object, or her relationship with it will change. This list leads to the thing she likes the very, very most in the world: her mother. Their relationship is described simply but beautifully with the same awareness that they will both change.
The publisher recommends the book for children aged 3+ years. Whilst much of the deeper meaning in the text would elude a small child, this would be a wonderful book to read repeatedly with a child as they grew. The watercolour illustrations by Zhu Cheng-Liang are the 'icing on the cake' for this charming picture book.
Reviewed by Anne Varnes