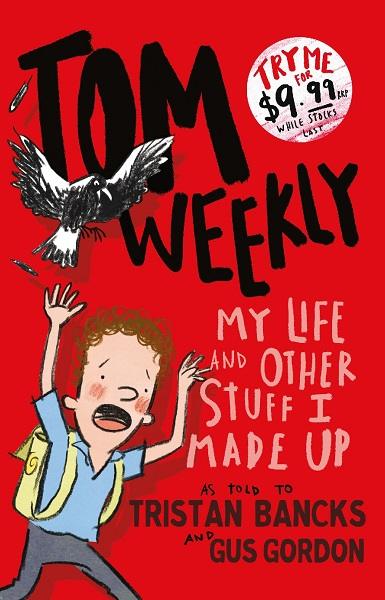 Tristan Bancks (text), Gus Gordon (illus.), My Life And Other Stuff I Made Up (Tom Weekly #1), Penguin Random House Australia, 2 April 2018, 208pp.,  $9.99 (pbk), ISBN: 9780143790082 
Have you ever felt like all the bad, crazy, weird things in the world only happen to you? Let me introduce you to Tom Weekly then you won't feel so alone. This is a collection of humorous short stories beautifully paced and pitched for young readers that will have you laughing out loud. You may on the other hand be cringing or grossing out at the thought of dog dribble all over a stranger's face in The Dog Kisser or Tom's crazy idea, in Hot Dog Eat, of competing with Mad Dog Morgan at the Fast Eddie annual Dog Eat Competition. And can you believe Tom when he accuses his teacher of eating his, um, well you'd better read it for yourself in the story Scab?
Written in the jocular, self-effacing vein of Paul Jennings or Andy Griffiths and supported by Gus Gordon's wonderful whimsical black and white illustrations, jottings and lists these stories are perfect for 9+ age group and a terrific addition to the home or school library.  Highly recommended.
Reviewed by Mem Capp