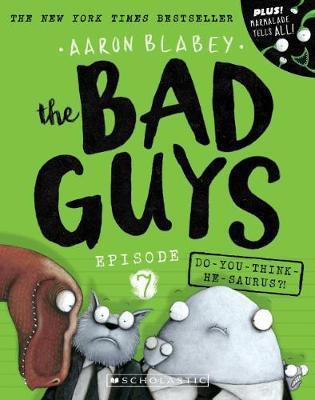 Aaron Blabey, Do-You-Think-He-Saurus?! (The Bad Guys #7), Scholastic Australia, May 2018, 160pp., $14.99 (pbk), ISBN: 9781760279493
What can you do when you discover that your Escape Pod is really a time machine and instead of saving the Earth from enemy aliens you have to save yourself from dinosaurs? That's right The Bad Guys are now 65 million years away from their destination and face to face with some pretty ferocious looking canines. 
The unlikely heroes of The Bad Guys series, Mr Wolf, Mr Snake, Mr Piranha, Mr Tarantula and Mr Shark are at it again but this time keeping dinosaurs at bay so they can fix their time craft and get back to the present to save Earth. But can they do it in time? And can it be possible that Mr Snake is really the hero of this episode? 
Aaron Blabey's well paced narrative and wonderful action packed illustrations will encourage the most reluctant of readers to come out with a smile. With a little taste of what is to come in episode 8, this episode is a fun read for children aged 7+.  Highly recommended.
Reviewed by Mem Capp