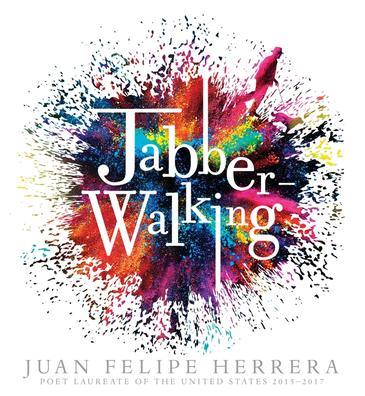 Juan Felipe Herrera, Jabberwalking, Candlewick Press/Walker Books Australia, 1 May 2018, 144pp., $ 22.99 (pbk), ISBN: 9780763692643 
Why is it that the simple idea of writing a poem can so often throw us into a total spin? Juan Felipe Herrera aims to demystify the process through his flamboyant, free-wheeling take on how to write poetry. Drawing the book's title from Lewis Carroll's wonderful nonsense verse The Jabberwocky, Herrera takes the young writer on a stream of consciousness adventure into the unknown to 'walk and write and walk and write'; replacing the sense of 'preciousness' in poetry with a sense of fun and suggests you let out all those 'burbles' you have bubbling up inside as you do so.
Herrera and his dog Lotus guide the reader through 'the tulgy wood' of poetry, encouraging us to observe and write, listen and write, smell and write. To just get it down. Modelling various styles, lay-outs and fonts, the poet's own backstory in prose is interspersed throughout the book, giving the reader an idea of Herrera's own circuitous road to USA Poet Laureate from 2015 – 17. 
This poetry writing guide with its own 'blue cheesy' language might not work for everyone, but the sense of passion and fun in Herrera's writing, along with his own crazy, free-wheeling doodles, will worm their way in all the same. Recommended for readers aged 10+.
Reviewed by Mem Capp