Karen Manbulloo, Moli det bigibigi (Molly the Pig), Indigenous Literacy Foundation, 5 September 2018, 24 pp., RRP $19.99 (pbk), ISBN
9780648260424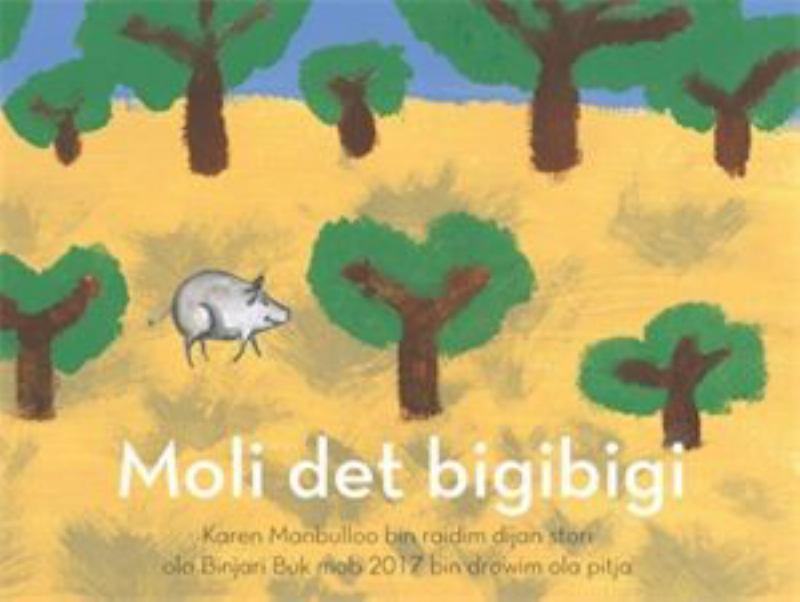 Moli det bigibigi (Molly the Pig) is a delightful new book, written and illustrated by Karen Manbulloo from the remote Binjari community near Katherine in the Northern Territory. When Piglet Molly is brought back to the community after being rescued from the bush, everyone loves her … except the local dogs who constantly chase and frighten her. But what Molly loves is Weet Bix, and after munching and munching her favourite food, she soon grows bigger than the dogs and the tables are turned.
One of a series of nine books written by the Binjari Buk mob (women from the Binjari community), Moli det bigibigi is published through the Indigenous Literary Foundation's Community Literacy Program, which aims "to enrich the reading and learning experiences of children, Indigenous and non-Indigenous, across Australia". Written in both First Language (Kriol) and English, and supported by playful illustrations in gentle earth tones, this book is the first time such a community-written story has appeared in print and is one of the few such titles available outside of the community. Check out this sweet tale or watch the animated version online at the Indigenous Literacy Foundation website.
Reviewed by Maura Pierlot