Shannon Hale & Dean Hale (text), LeUyen Pham (illustrator),Princess in Black and the Science Fair Scare (Princess in Black #6), Candlewick Press, September 2018, 96 pp., RRP $19.99 (hbk), ISBN 9780763688271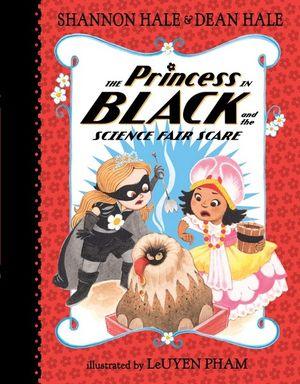 The Princess in Black and the Science Fair Scare is the latest in The Princess in Black series. Princess Magnolia looks like a regular princess, but when danger strikes at the school science fair she morphs into the Princess in Black to save the day.

The series' greatest selling point is that it subverts the princess stereotype a bit. Princess Magnolia looks prissy but it turns out she's mysterious and brave. This book's best feature has to be the funky illustrations that have all the humour and fun of a good action cartoon. My preschool age boys were hooked, reading the pictures many times through before I read them the words. Despite the distractingly long-winded princess names, the book works well as a read aloud. There's playful alliteration, repetition, and superhero talk.

I'll admit that the teacher in me was hoping for a bit more girl-power oomph from a book that features a female superhero and girls doing science… but there's surprisingly little STEM content to work with, for a book that talks up science in the dedications. That said, there are good examples of teamwork, resilience, and resourcefulness to explore.

As I read this book, I couldn't shake the feeling that I'd missed something. And I had. The first five books. It made more sense the second time around — but it's probably not the place to start a young reader. Recommended for fans of the series.

Reviewed by Liz Patterson