Nikki McWatters, Liberty, University of Queensland Press, October 2018, 358 pp., RRP $19.99 (pbk) ISBN 9780702260292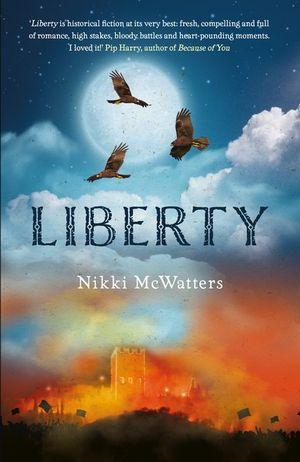 Liberty is the story of three women at different times and their experiences with war, with being women and realising who they are.
The book begins with Jeanne, in 1472, in a village where everyone believes her father is a coward and she is no better for being his daughter and female. But she is brave and determined and wonderfully in love with Colin, who is her brightness in all she has to endure. But Colin is poor and when a misogynistic Lieutenant wants to marry her in order to make her 'behave' like a woman should, she knows in her village and because of her status – and to protect her father from retaliation — she will have no recourse but to do so. That is at the heart of her story, but events in her story propel her to do so much more than that – her bravery puts soldiers to shame and saves her people.
Betsy is fighting a different war in Ireland 300 years later against the English. She is brave and determined like Jeanne is, lying to soldiers and doing everything she can to protect her family when they find themselves targets. The theme of both these women is about being underestimated at a time when women are not thought of highly.
In the 1960s in Australia, things have changed somewhat for Fiona. She is off to university in Brisbane, and her whole world is opening up. She meets other would-be barristers like herself, and a young man who finds himself conscripted to the war. Her standing up for her beliefs against the war lands in trouble, and her father pulls her out of university. Her story like the others is one of finding herself and her way against the current of what society expects of her.
The book is wonderful in expressing this sentiment through these stories, of what women have always had to experience and to strive against, even to the point of using Jeanne and Betsy, who were real people. Unfortunately, it's not enough just to link these stories through a book within them. Their stories needed more of a connection together, or this should have been about two characters, delving into what they had to go through. This read like three separate mini books about three different women. It follows McWatters' first novel in a similarly themed series, Hexenhaus, and will end with the release of Saga in 2019.
Reviewed by Verushka Byrow