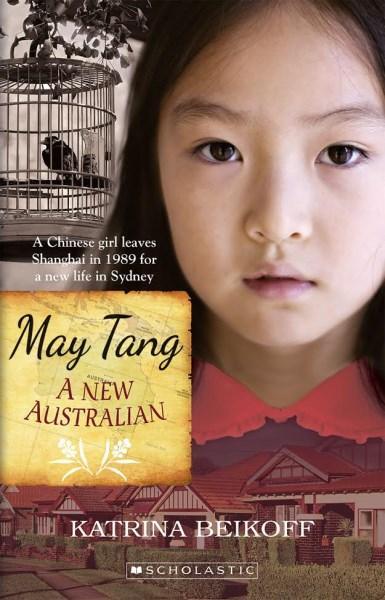 Katrina Beikoff, May Tang: a new Australian,  Omnibus/Scholastic Australia,  April 2017,  256pp.,  $16.99 (pbk),  ISBN 9781742990743
May Tang is a young Chinese girl growing up in Shanghai. She is a dreamer who loves going to the park with her grandfather and listening to his stories. But her life is to be changed forever when her parents break the news that she and her mother are to join her older brother in Australia – for good. It is 1989 and unsettled times – the terrible incident in Tiananmen Square means that young people campaigning for political change, like May Tang's brother, are no longer safe.
Australia is so different to China, May Tang must contend with many challenges – settling in Ashfield where there are few other Chinese people, finding a job for her mother who speaks no English and will not venture far, going to a new school where she is warned not to be "too Chinese". May Tang feels as if she has to take on the mother role and is hating school until she meets Jade, who befriends her and gives her the strength to believe in herself.
May Tang is the sixth title in the series of children immigrating to Australia. It is factually based and a comfortable read for middle to upper primary students. The author perfectly captures the sights and sounds of both China and Australia at the time. Familiar motifs are used to give a cyclical quality to the storyline. Having travelled and lived in new places, I could identify with the character's suspicion of the new and reluctance to let go, along with the joyous transformation when May Tang adopts this new place as her own.
Recommended for middle to upper primary students. A great serial read for classes doing studies of immigration.
Reviewed by Sharon Seymour