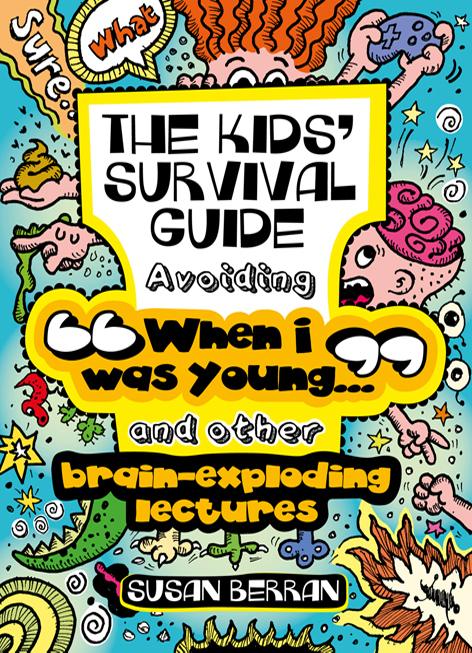 Susan Berran,  The Kids' Survival Guide: avoiding "when I was young" and other brain-exploding lectures,  Big Sky Publishing, 1 Oct 2016, 102pp.,  $14.99 (pbk),  ISBN: 9781925520071
Every kid knows the feeling of being hassled by their parents for what they did, what they didn't do, or what they may or may not have thought about doing. And if you throw the relationship with a younger sibling into the mix, the potential for lectures is HUGE! And all parents seem to have read the same manual for how to give a lecture. This guide is full of suggestions for surviving and/or avoiding these lectures and getting off as pain free as possible.
Author Susan Berran gives kid-friendly hints like 'avoid eye contact at all cost' and 'absolutely do not get sucked in and answer them', and my personal favourite 'pooears' (you'll have to read to find out!) It warns of parent strategies like 'the guilt trap' and 'the rant and rave' and 'the ol' double-back-flip, triple somersault, reverse twist with a half turn of totally useless information'. Following the advice given will undoubtedly provide a lighter side to getting into trouble but also help to shrink lectures to their absolute minimum length.
Encasing the advice is a series of family stories including how Sam came to find the parent manual entitled 'Boring Useless Lectures, Lessons, Children's Rules and Punishments' (that's Bullcrap for short) and the not-so-great effect of living with a baby sister.
With an easy-to-read layout and font size, some fun cartoon-style images to enhance the reading experience and a large dose of tongue in cheek, this book will undoubtedly appeal to the masses. Having read the first 20 pages aloud to my year 5 class, they voted unanimously to hear more. As a teacher and parent, it is extremely pleasing to see that spelling, punctuation and grammar have not been laid aside for the sake of relatability. Berran proves admirably that you can have both.
Super-relevant for kids from mid-primary to mid-secondary school levels, this survival guide is written in modern kid-speak from the perspective of the harassed young person. Basically a good laugh, the series will also serve to remind kids that they are not alone in their experiences of childhood – a message that is both important and reassuring.
Reviewed by Katie Bingham