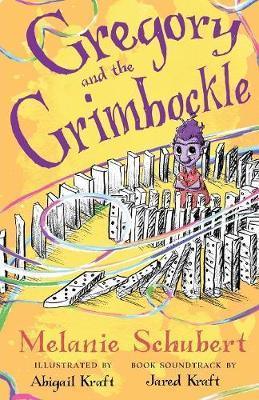 Melanie Schubert (text),  Abigail Kraft (illus.),  Gregory and the Grimbockle, New Wrinkle Publishing, 9 Nov 2017, 194pp.,  $23.65 (pbk), ISBN: 9780991110933
This book will get kids' brains a-humming!
Have you ever felt that you stand out in a group because of one thing about yourself that is different? Do people around you point out the obvious about you and try to make it sound terrible?
10-year-old Gregory has a large mole above his lip. It's very hard to hide… but why should he? People around him stare and comment. Old Ethel even tries to tear it from his face. He is so frustrated by it that he has stopped trying to interact with people, so now he has no friends.
Schubert thoughtfully explores the emotions we all feel when we face ourselves and others fixating on our differences and become isolated as a result.
One night, a little creature called a Grimbockle, and his tiny cockroach-like steed, come out of Gregory's mole… I shivered with delightful disgust when imagining this scene. Gregory is taken on a high-speed roller coaster journey learning about how the Bockles live on the edges of 'hooman' awareness tending to the invisible, noodlelike threads called exoodles that bind people together. When we don't look after our relationships with family and friends these exoodles wither and die.  Gregory offers invaluable insight to the Bockles and learns how to strengthen the bonds in his own life.
"Is you ever seeing glimpses of squiggles in the corners of your twinklers but then they is disappearing in a snippety blink?"
Reminiscent of Roald Dahl and Lewis Carroll, Schubert weaves a weird and wonderful story to delight children and adults alike.
The pencil sketches and flourishes by Abigail Kraft are captivating; the Bockles and their world are constructed perfectly. For additional creativeness there is also a soundtrack by Jared Kraft to download. These 13 snippets of music are easy to download and are a perfect accompaniment to each chapter of the book; excellent to play for a read aloud at home or during a book club.
This is Melanie Schubert's debut novel for children and it is so original and insightful I can't wait to see what she dreams up next.
Reviewed by Sharon Smith