Penny Harrison (text) and Megan Forward (illustrator), Emily Green's Garden, New Frontier, November 2018, 32 pp., RRP $24.99 (hbk), ISBN 9781925594249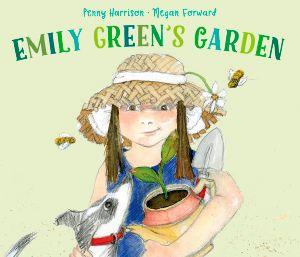 'Emily Green lived in a perfectly lovely house, in a perfectly lovely street…'
So begins Emily Green's Garden by Penny Harrison which tells the story of curious Emily Green, who discovers her green thumb and brings the concrete jungle she lives in to life with plants.
Emily doesn't mind helping her parents keep her home spick and span, but at the same time she is bursting with a desire to create some mess! So when she notices a small plant growing between the cracks in her pavement it sparks a curiosity that brings about changes not only to her, but also to the neighbourhood.
The story unfolds gently with a quiet humour and I liked Emily's curiosity, determination and enthusiasm. The language is purposeful, and hints in places of rhyme without actually rhyming. It also include a good mix of familiar words and phrases with other more challenging words that children might not have encountered before, giving the story added depth.
The watercolour illustrations by Megan Forward compliment the pace and feel of the story. The loose lines, splotches and pastel colours create an idea of creativity and growth, and the compositions evoke a feeling of everyday whimsy.
A sweet book with messages about creativity and slowing down and the ability nature has to captivate and unite people.
Should be enjoyed by children aged 2-6.
Reviewed by Renee Mihulka