Nicki Greenberg, Zelda Stitch Term Two: Too Much Witch, Allen & Unwin, February 4 2019, 288 pp., RRP $14.99 (pbk) ISBN 9781760523671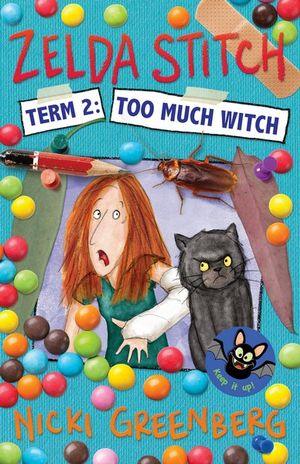 Hey, look what Phoebe's doing!
Phoebe! Why were you pointing at Mr. Bullen like that?
Are you a witch too, Phoebe?
EEEEEEEE!!! PHOEBE'S A WITCH!!!
Our favourite down-to-earth, lovable witch is back for a second term in Nicki Greenburg's wickedly funny Zelda Stitch Term Two: Too Much Witch. Not only does Zelda need to focus on being an effective teacher and keeping her alarming magical impulses to herself but she must somehow mentor Phoebe, an impressionable young witchling, battling to control her own emerging powers whilst under the most dreadful influence of all: peer pressure.
With a broken arm, crazy cat Barnaby up to his old tricks, a shrunken PE teacher and a cringeworthy discovery about her mother and Principal B, trouble is already brewing for newly qualified Zelda. Now the school camping trip is almost upon her, the terrifying Melody Martin is on the warpath and a mystery stench (worse than farts and sandwich breath) is haunting Zelda's classroom. Will our resilient witch ever get her hero moment or will everything she has worked for be lost?
You've got good ideas, Zelda.
Look how far you've already come.
Don't give up. If one thing doesn't work, reach into your toolkit and try something else.
Nicki Greenberg's expressive comedy sketches and jottings really bring her characters to life and give this book an authentic diary feel. Young readers will adore the opportunity to steal a sneaky peek inside a teacher's private diary and engage with Zelda's laugh-a-minute dramas.
Staying true to yourself and embracing our differences has always been a central theme in the Zelda Stitch series and this title also promotes mindfulness and the importance of developing a positive mindset. There are some fantastic writing prompts included at the end of the story too, sure to inspire emergent writers or engage readers in some creative discussions and storytelling of their own.
Aimed at mid to upper primary aged children (7-11 years) this title is a fabulous read for anybody who loves a classic classroom caper and a little magic too.
Reviewed by Lisa Hoad